Homeschooling the Gifted Child Part 1
Maggie Hogan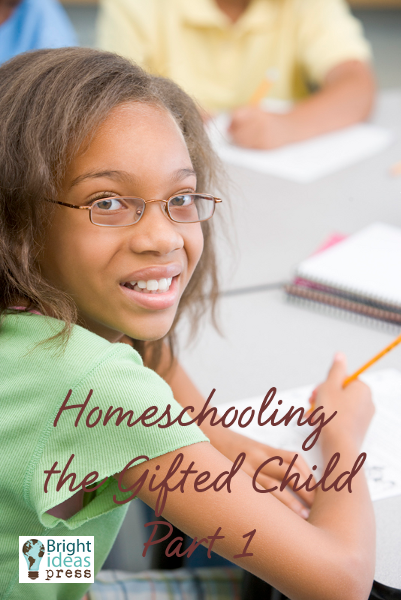 Have you ever wondered if your child is gifted? Most parents know their children are "special," but sometimes that feeling goes beyond parental love into a realization that a child is blessed with extraordinary talent in one or more areas. The first step towards homeschooling your gifted child is to determine if he or she is gifted.
How to Tell if Your Child is Gifted
Here are a few signs that your child may be gifted.
His bedroom looks like a mad scientist's laboratory.
You never know what you can throw out – was it an experiment or leftovers?
Your van is part taxi, part lab, and a large part bookmobile.
Your seven-year-old has recreated the Roman Empire in elaborate detail . . . with Legos™.
Your fourteen-year-old speaks and writes a foreign language fluently . . . a language of his own invention.
Your two-year-old insists on putting together his jigsaw puzzles "color-side down" so it won't be so easy.
At the bookstore you discover your nine-year-old in the check-out line with $500 worth of science books.
Your eight-year-old computes how much interest you owe him on back allowance . . . in his head.
Your four-year-old cries when she hears news reports about a famine in Africa.
Your outgoing five-year-old child strikes up a conversation with a stranger on a plane which results in his deriving a mature grasp of negative numbers. You respond, "Thank you . . . I think."
You told your son that he and his friends must stay outside to play. Later you find that they took the TV and Nintendo up on the roof. He said that they were, after all, playing outside . . .
Perhaps you would like a more formal list of characteristics?
Attributes Commonly Found in Gifted Children
This is a partial list of attributes commonly found in gifted children. Certainly most gifted children will not exhibit all of these attributes. In addition, some characteristics may be hidden, and because of a host of good reasons, may not appear until much later.
has a developed sense of humor
does things earlier than peers
does things better than peers
has a very different perspective than peers
has intense focus on one or two hobbies or interests
is sometimes (but certainly not always) capable and mature for age
sees patterns – both concrete and abstract
has a precocious use of language (if verbally gifted)
prefers to do math work in head (if mathematically gifted)
has an active imagination
is extremely competitive
shows extreme emotional sensitivity
is an original thinker – may be a non-conformist
is persistent
Then there are other characteristics of gifted children that may be a little more difficult to live with.
perfectionism
super-sensitivity or heightened senses (can't stand the toes of the socks to be on "wrong," requires the tags in shirts to be cut off, or overly sensitive to light or sound or environment)
very intense emotionalism
high energy levels
below-normal need for sleep
stubbornness (the extreme side of persistence)
inability to finish all projects begun
impatience with time required for precision
impatience with details
More About Gifted Children
Intellectually gifted kids are not always the honors students with the best scores. Some kids don't test well, and some gifted kids aren't academically inclined.
Some gifted children deal with un-diagnosed learning disabilities, boredom, behavior problems, or hyperactivity that complicate their special abilities. As you can see, it's not always easy being gifted!
Next week I will continue this post with advice for handling gifted children. In the meantime, consider buying a copy of the book  Gifted Children at Home: A Practical Guide for Homeschooling Families, sold in the Bright Ideas Press store. See the table of contents and sample pages here (PDF).