Illuminations Curriculum Makes it Easy to Integrate Netflix Videos
Katey
We are using Illuminations Year Four for our homeschool curriculum. In December, I wrote about Illuminations Literature Guides and in January I wrote how we used them. Today I want to share another great feature — the supplemental video schedule.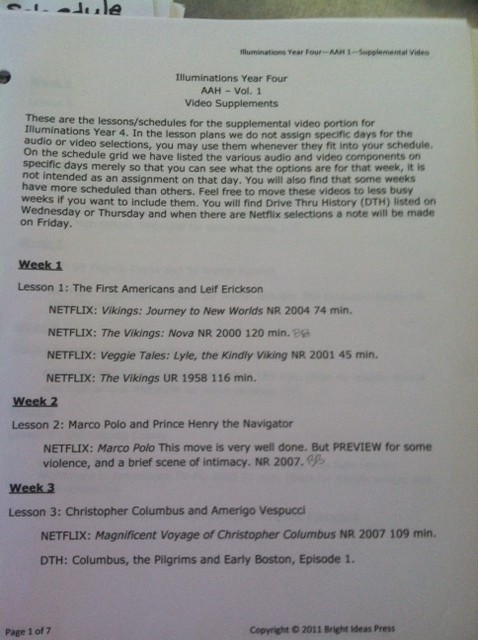 Bright Ideas Press has done the work for you!  Each week is laid out with suggested videos you can access via Netflix or Drive Thru History.
We had a streaming Netflix account. Unfortunately, most, if not all, of the videos in the Illuminations guide came up as DVDs and not in the  streaming category. So I bit the bullet and am now subscribing to both parts of Netflix. To me, the cost is worth it since all I had to do was search for the videos. I didn't have to use brain cells to come up with the ideas.
Since the only videos in my queue are school related, it will be super easy to keep track of what I have requested.  I went through the list from the Illuminations guide and added them in chronological order.
Do we use videos everyday? No. But they are great to break up the long winter days when we are home-bound by the weather.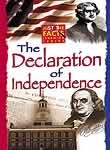 We recently watched Just the Facts: The Declaration of Independence. My 15 year old just finished an online government class and the inauguration was coming up so this was perfect timing. Everything meshed perfectly.
There was a multiple choice quiz at the end of the DVD. Just when I thought the kids weren't paying attention, they got most of the answers correct.
We will be watching many more of the suggested viewing list. Do you watch videos as part of your learning?
Homeschool moms are busy
Bright Ideas gets that. And that's why we promise to publish Christian-oriented curriculum that will fit into your hectic lives, curriculum that is both affordable and easy-to-use with children of different ages at the same time. Curriculum that busy Moms love! The team at Bright Ideas Press prays that our products and resources will not only help to simplify your life, but also inspire, encourage, and enable you as parents to effectively educate your children.

Subscribe to receive homeschool support articles, tips, and news and coupons from Bright Ideas Press.