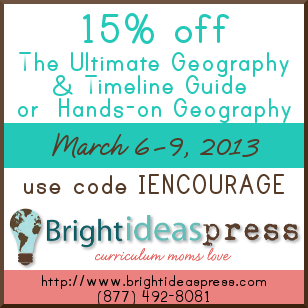 March 6-9, 2013
March 6 is Maggie Hogan's birthday! Take 15% off Maggie's two geography books The Ultimate Geography & Timeline Guide and/or Hands-on Geography with code IENCOURAGE at checkout.

March 11-15, 2013
March 14th is Pi Day. Get free shipping on an order of $30 or more with coupon code THREEPOINTONEFOUR.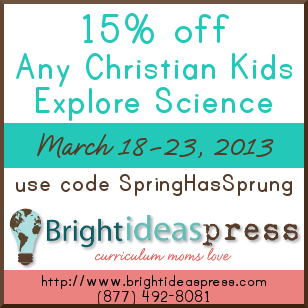 March 18-23, 2013
March 20 is the Vernal Equinox and the first day of spring. Receive 15% off any book or resource download in the Christian Kids Explore Science series with coupon code SPRINGhasSPRUNG.
Use of all discount codes is subject to the official coupon policy.
Coupon codes are not case sensitive.
disclosure policy
.