How Much Does it Cost to Use Illuminations?
stacey lane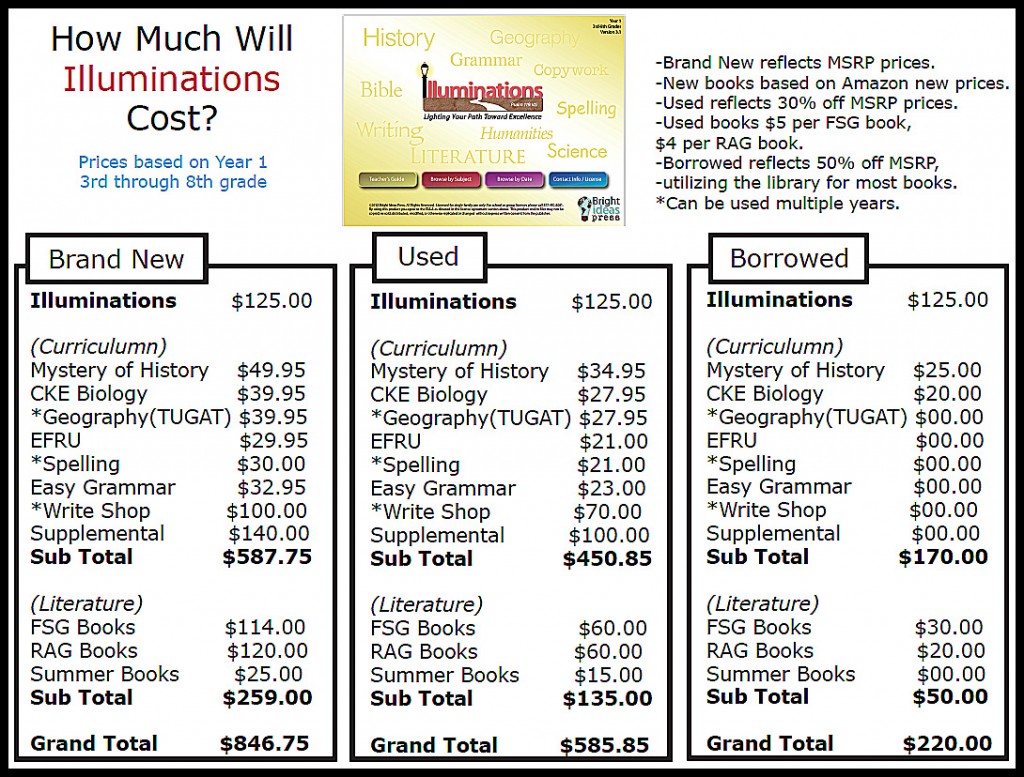 Sometimes we get phone calls at the Bright Ideas Press Office because customers want to know more about Illuminations. The bottom line in their questioning is often how much it costs to use Illuminations.
Since I am one of the number crunchers in the office and the local tightwad, I took a detailed look at the overall cost of using Illuminations.
How much does Illuminations Cost?
I decided to break down the cost into three possibilities:
brand new price
used price
borrowed price
In this price comparison I use third to eighth grade books. The figures take into consideration the fact that some books like The Mystery of History require only one copy per family while other books like Easy Grammar require a book for each student. These variables can affect the overall cost for using the program. So use my numbers as an approximate guide.

Brand New Estimated at $846.75
This price is calculated with the cost of Illuminations at $125 and the curriculum books at retail price. The literature book prices are based on their cost new from Amazon. I came to a total of $846.75, a reasonable ballpark figure for those who pay full price for Illuminations.
Remember this price represents everything except math that you need to teach students in third to eighth grade. If you have more then one student in those grades, the cost per student becomes even less.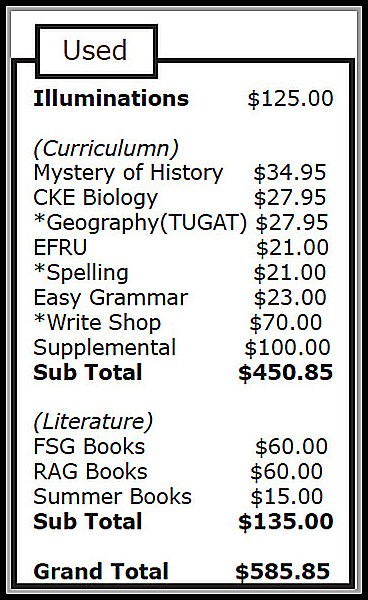 Used Price Estimated at $585.85
The used price is calculated with the cost of Illuminations at $125, the curriculum books at 30% off the retail price, Family Read Aloud books at $5 each, and Read-alone books at $4 each. This price assumes that all curriculums scheduled in Illuminations are being used. According to this plan, the only additional cost would be for a math program. $585 is a ballpark figure for those who buy used books for Illuminations.

Borrowed Price Estimated at $220.00
The borrowed price is calculated with the cost of Illuminations at $125.00, important books like The Mystery of History and Christian Kids Explore science at used prices, and no cost for the remainder of the books. This plan works for families who have a well-stocked library where they can borrow the literature selections. Only $50 is budgeted for books that may not be available at the library. $220 is a ballpark figure for those who want to use other curriculums already on hand and can keep costs to a minimum by borrowing books.
Illuminations remains an affordable option for your homeschool. Remember that in incorporates plans for every subject except math and allows you to group your children in grades 3-8 together for many subjects. Economizing with used or borrowed books creates makes it even more accessible. As always, if you have questions about Illuminations or any Bright Ideas Press products, please contact us.
Homeschool moms are busy
Bright Ideas gets that. And that's why we promise to publish Christian-oriented curriculum that will fit into your hectic lives, curriculum that is both affordable and easy-to-use with children of different ages at the same time. Curriculum that busy Moms love! The team at Bright Ideas Press prays that our products and resources will not only help to simplify your life, but also inspire, encourage, and enable you as parents to effectively educate your children.

Subscribe to receive homeschool support articles, tips, and news and coupons from Bright Ideas Press.