Editing the Schedule Grid in Illuminations
stacey lane
One of the most unique elements of Illuminations is the user interface that allows you to customize your schedule according to your particular needs and then print it out in full color. Here is a screenshot of what the Illuminations schedule grid looks like.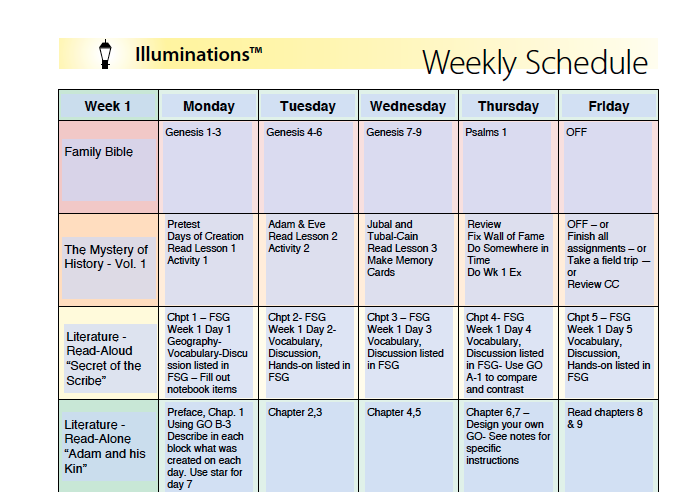 Keeping the weekly schedule grid to one printed page is my goal. Generally it takes me less than ten minutes to edit the grids for my children. Since the information for the history sections and study guides contain detailed information that I need, I don't change the top four lines.
For the bottom three lines, I type over the information in the grids and customize the contents for my own purposes. Below is a screenshot of what the grid looked like originally, before my edits.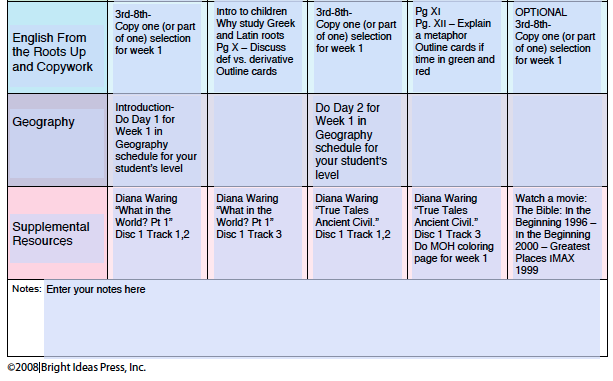 For subjects that follow a sequential order through the lessons, like math, I type do the next lesson in each box. For grammar studies, I type in the pages that need to be completed.
In the last row, I add reminders such as piano and ukulele lessons. And if I am planning on watching a movie from Netflix, I add it to the notes section at the very bottom.
Below is a screenshot of what my edited schedule grid looks like after I have made these changes.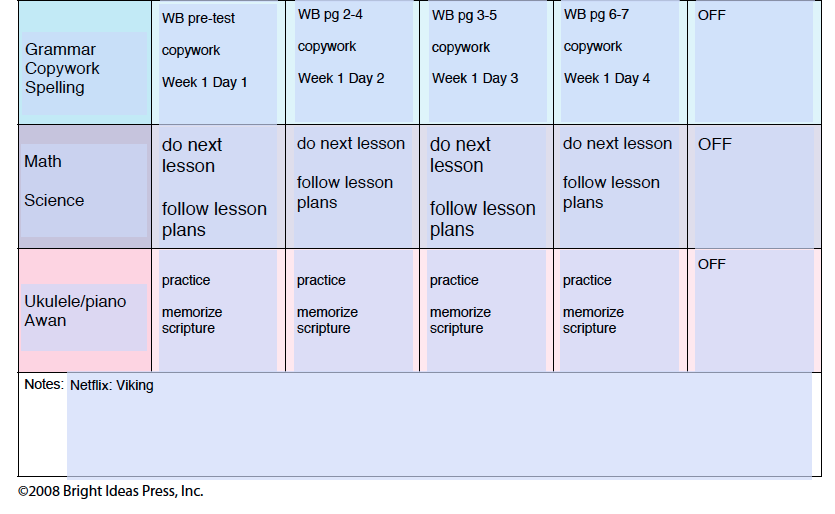 It isn't possible to cut and paste from the original information programmed into the Illuminations schedule grid, but you can cut and paste from your own typing. I simply type the information into Monday's box and cut/paste it exactly where I want it to be.
For subjects like spelling and science, I have the lesson plans printed and added to their notebooks. Then I can type follow lesson plans in the schedule grid.
Once the schedule is exactly how I want it, I can print out my page with my home printer.
The original information in the schedule grid cannot be indefinitely altered. Even if all the information has been deleted from the grid, the original will return after you reopen the program. If you would like to leave any box blank, insert a space or a period to keep it clear. Deleting the space or period will cause the originally programmed information to return.
I edit the grid page for each of my children and give them a copy. Although I check in with them daily to note progress, they are responsible to complete their assignments. I do know that some parents use the edited grid page as their own lesson planning for teaching. It can work either way depending on the maturity of your children.
If you get behind in only one or two of the many subjects scheduled in Illuminations, it isn't possible to move the information to the next week without retyping everything. To avoid retyping the details,  I try to keep history and literature in the same week as the original schedule. Since the other subjects on the grid don't have as detailed information, there is more wiggle room with rescheduling. If the weeks get too out of sync, I will spend a week to catch-up on certain subjects and take a break from others.
Homeschool moms are busy
Bright Ideas gets that. And that's why we promise to publish Christian-oriented curriculum that will fit into your hectic lives, curriculum that is both affordable and easy-to-use with children of different ages at the same time. Curriculum that busy Moms love! The team at Bright Ideas Press prays that our products and resources will not only help to simplify your life, but also inspire, encourage, and enable you as parents to effectively educate your children.

Subscribe to receive homeschool support articles, tips, and news and coupons from Bright Ideas Press.