Take The Mystery of History Farther With Notebooking Pages
Amber Oliver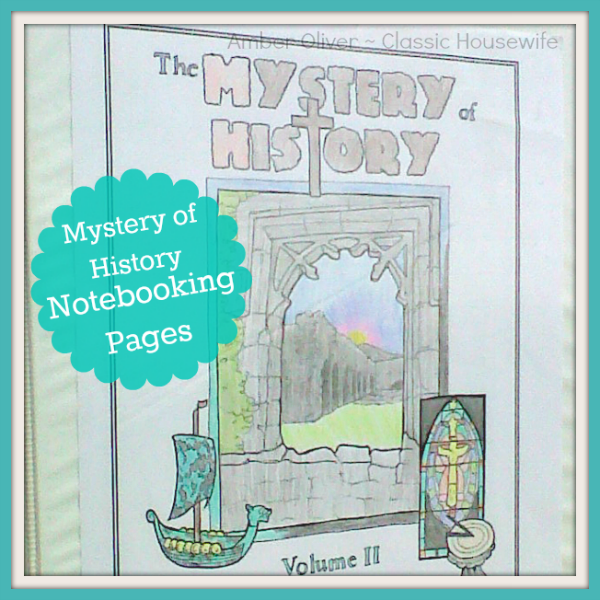 The Mystery of History is one of our overall favorite resources. It's chronological, biblically based, conversational, multi-age, and suits a variety of learning styles. Surprisingly, it even taught me to love history. What could be better?
Make The Mystery of History Better With Notebooking Pages
By adding the coordinating Notebooking Pages to our lesson plans, we've been able to take our Mystery of History so much farther this year. Why? What's the fuss about notebooking pages?
The Many Benefits of Notebooking:
Helps a student recall and remember what was learned
Allows children to focus on the elements that were most interesting to them
Encourages creativity and self expression
Incorporates writing, grammar, spelling, and punctuation skills
Presents an opportunity to encourage the child to take pride in their presentation (neat handwriting, etc.)
Is flexible for age and ability (those who prefer to write more, or those who prefer to illustrate more.)
With the addition of the notebooking pages, we can take our Mystery of History lessons one step farther. We can read and listen to the lesson, do further research online, and  put it all together in a notebooking page. Combined with the mapping and other activities already listed at the end of each lesson, the notebooking assignments wrap it all up into a nice, neat learning package.
The Mystery of History Notebooking Pages
When you download the Notebooking Pages set (for MOH 1 or MOH 2), you get four different files. With these four files you can tailor the notebooking experience for each of your children.
My youngest child only has the young writer's notebooking pages, my middle has the younger writer's notebooking pages and the extra information pages, and my oldest has the older writer's pages with the extra information pages. Each child is being challenged at her appropriate level.
Each child has her own notebook with her  set of notebooking pages, and we add coloring pages, mapping activities and other pictures as we go through each chapter. I encourage my children to spend a little bit of time on their notebooking pages at the end of each lesson, allowing them to look back through the book for information. (It's not a test!) At the end of each chapter, we spend more time wrapping up and filling out our section for the whole chapter before moving on.
One last benefit: at the end of the year–with the addition of the coloring pages, maps and other things we add–we will have a great notebook of all the things we learned through Mystery of History, Volume 2.