5 Resources for Enjoying Autumn
Heather Woodie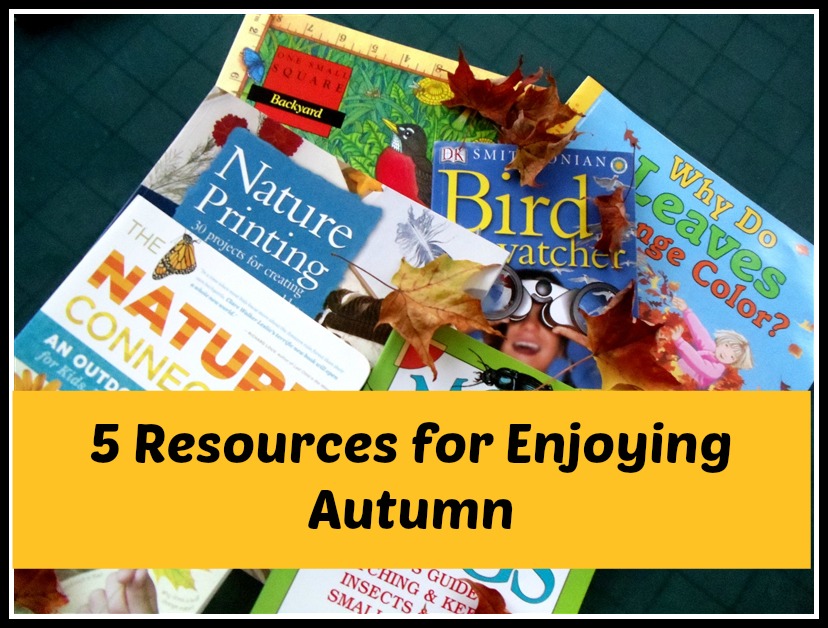 Autumn is probably my favorite time of year. I love to soak up the cool days combined with warm sunshine and earthy colors that explode on the scene. It's a time for apples, colored leaves, corn mazes, and pumpkins. Today I'm sharing five fun resources that will help you to enjoy autumn with your kids.
Five Books to Help You Enjoy Autumn
Nature Printing (affiliate) by Laura Donnelly Bethman
This book teaches how to print with fruit, leaves, and other items from the natural world. Print with paint and ink onto paper, fabric, and wood for beautifully handmade wearables, stationary, and home furnishings. My artsy daughter loves this idea book. She spends a great deal of time pressing leaves and flowers and using them in her art.
Why do Leaves Change Color (affiliate) by Betsy Maestro
This book is from the Let's Read and Find Out Science series. It's a favorite of mine because the illustrations are so vivid and the explanations are very scientific yet clear and easy to understand. This picture book is a good resource for identifying common deciduous leaves.
Bird Watcher (affiliate) a DK book for Smithsonian
Fantastic photography and every season of a bird's life cycle are included in this book. There are ideas for activities to study birds and charts for identifying bird species. You can watch birds year-round and compare bird behavior during fall. We have a lot of molting birds at our feeder this time of year, so we keep this book near the window along a local bird field guide and a pair of binoculars.
More Pet Bugs (affiliate) by Sally Kneidel
We are fans of Pet Bugs as well, but this guide has an entire section devoted to keeping and caring for woolly bear caterpillars. These guides do a terrific job of explaining the behaviors of each species along with how to care for them as a pet. There are other critters in the book, but woolly bears are a favorite visitor across the fall landscape.
The Nature Connection (affiliate) by Clare Walker Leslie
This is a rich resource for enjoying nature year round. The October section lists out many activities for enjoying leaves and identifying evergreen versus deciduous leaves. There's even a nice chart for drawing leaves. This book isn't just for fall. You'll find activities in here for learning about nature any time of the year.
Autumn is arguably my favorite time of the year in Upstate NY. I love to get out with my students and see the change in season. Use these book resources to bring some specific ideas and fun to your homeschool this fall.