Five Ways to Play with Words
Heather Woodie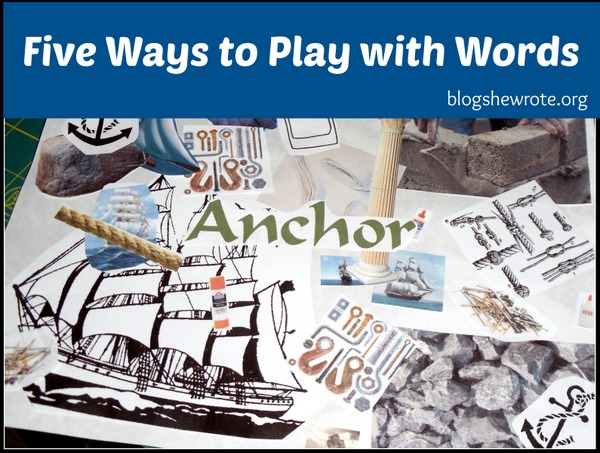 Do you enjoy words or are you intimidated by them? Word play is a fun way to engage with words in an intentional manner with your kids. Try it yourself and see words from a new perspective.
Use the Dictionary to Find Word Meanings
Use a dictionary to look up a word and read all of its uses and definitions. Does the word capture what you want to convey? While you are there, have a look at the words that surround your word. Perhaps they are related and tell you more about your target word. Online dictionaries are great in a pinch and for quick reference, but an old-fashioned physical dictionary leads to many enjoyable word paths. Don't underestimate the power of a good dictionary!
Find Synonyms by Using a Thesaurus
My favorite thesaurus is The Synonym Finder. A  stroll through a good thesaurus helps you to look at a word and see what other words are similar. I love the way a thesaurus helps you further define a word. Pick the word that most defines the message you are sharing in your writing. Sometimes a different word is more compelling than the word you originally chose.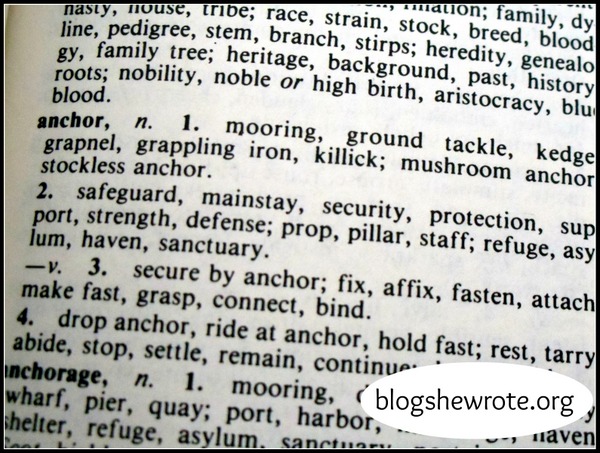 Collage a Word
Making a word collage is a creative way to enjoy a word. Place a drawing or a printed form of the word in the center and make a collage using the synonyms and meanings you found in your word research. Choose images that explain the word and represent all of the word's meanings. In our anchor collage pictured above, you can see items such as glue, ropes, screws, columns— anything that depicts something being anchored. This is a great technique to try out metaphors.
Keep a Word File
Keep a list, notebook, or word box of interesting words. What are words that grab your attention or curiosity while you are reading? You could have many sources for interesting words, but the idea is when you hear or see a word you like, file it. Collect them. Use them. Try out a collage with them.
Show Detail with Word Choice
Take a look at your word and decide whether or not it conveys enough detail. Rather than modifying your word, maybe a different word is a better choice. Can your word be more precise? Details draw a reader in and good word choice is compelling. This is a great opportunity for a word cloud. Instead of a collage, write your word in the middle and see how many words you can think of, with or without a reference, that are similar but more intentional.
Try spending time discovering the nuances of just one word and keep a list of words you find compelling. Encourage your kids to collect words and see how it affects their writing.
Learning and using new words is not complicated and doesn't require a lot of curriculum. Enjoy using some simple reference items and a few strategies that require your children (and you) to reflect on a word.
---
Follow our Language Arts and Literature Pinterest Board
Homeschool moms are busy
Bright Ideas gets that. And that's why we promise to publish Christian-oriented curriculum that will fit into your hectic lives, curriculum that is both affordable and easy-to-use with children of different ages at the same time. Curriculum that busy Moms love! The team at Bright Ideas Press prays that our products and resources will not only help to simplify your life, but also inspire, encourage, and enable you as parents to effectively educate your children.

Subscribe to receive homeschool support articles, tips, and news and coupons from Bright Ideas Press.