How to Host a Classics Book Club
Heather Woodie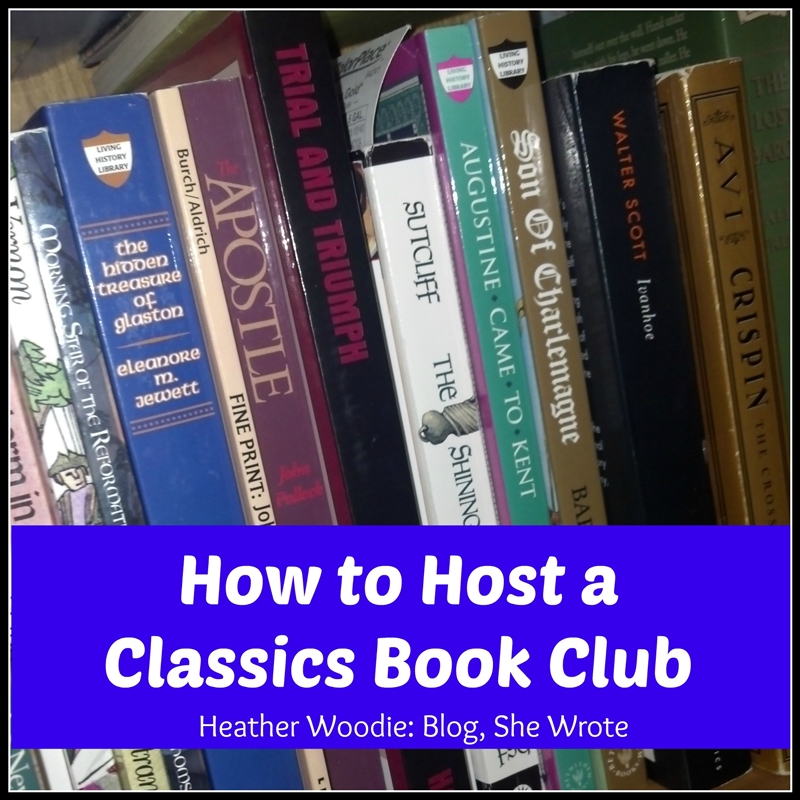 Have you ever wanted your kids to read more classics but you're not sure how to go about it? Two years ago our oldest child participated in a homechool classics book club. It was a terrific way to read good books and have discussions with peers!
Make a Year-long Schedule of Books
First you  have to decide how often your club will meet. You'll be reading the books between the meetings, so it's important to determine the pace of the schedule ahead of time.
Make a List of The Classics. Choose the titles you want to read. Examples of the books our club used are: Treasure Island, The Hobbit, and A Christmas Carol.
Consider Your Participants. Which classics you choose may partially depend on who is in your group. While it may not matter, you might want avoid Jane Austen novels if you have all boys.
Which Activities? You might choose books to match the activities you want to do. For example, my son's club watched a movie version of the classic when they met together.
How Many Books? Because we met every other month, we needed a list of only five books for one school year. If you meet every month, you'll need at least nine depending on how long your school year lasts.
Set Your Meeting Times. Look at your activity list and decide how long a meeting will last. My son's book club met from 1-4 p.m. every other month.
Activities to Enjoy Together
There are so many choices of activities, but if you have a lack of your own ideas, there's always Pinterest.
Watch a Movie. If you go this route, you have to make sure you have the movie ready for meeting day. And it is probably a good idea to preview it or read reviews before showing it. Before The Hobbit movie was released, the club wanted to watch the animated version from the 1970s, but it was nowhere to be found.
Compare the Movie to the Book. My son's group spent time discussing the differences in content and which they liked better.
Make a Craft. Some kids really love doing handicrafts to match the theme of the books they read.
Eat Food. As I write this, there is a group of twenty teens in the next room five hours into a twelve hour Lord of the Rings (LOTR) marathon. There is a counter full of LOTR related foods like lembass bread and ring cookies complete with Elvish writing.
Dress Up. Even older kids love cosplay (short for costume play) and dress like a favorite character.
Book clubs bring peers together to read and discuss books they may not otherwise choose. Why not choose classic titles for your club?
Homeschool moms are busy
Bright Ideas gets that. And that's why we promise to publish Christian-oriented curriculum that will fit into your hectic lives, curriculum that is both affordable and easy-to-use with children of different ages at the same time. Curriculum that busy Moms love! The team at Bright Ideas Press prays that our products and resources will not only help to simplify your life, but also inspire, encourage, and enable you as parents to effectively educate your children.

Subscribe to receive homeschool support articles, tips, and news and coupons from Bright Ideas Press.