Get A Young Scholar's Guide to Composers for 25% Off
Jenn Hamrick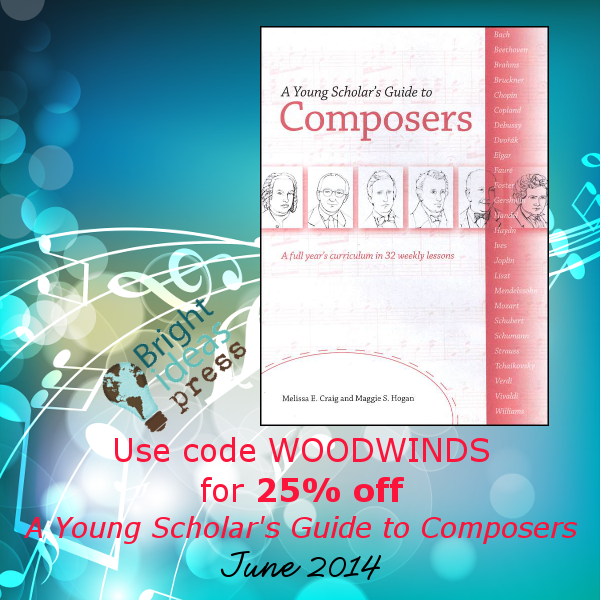 Use code woodwinds for 25% off A Young Scholar's Guide to Composers (either digital download or CD).
A Young Scholar's Guide to Composers is a Christian, creative, chronological approach to the composers for grades 4-8.
Additional features
32 Weekly Lessons
26 Bios of Famous Composers
6 Eras of Music Explained
Easy-to-Use Comparative Timeline
Easy-to-Use Maps
Composer Info-Cards & Game Directions
Note-taking Pages
Quizzes
Answer Keys
Listening Suggestions
Intricate Coloring Pages
Resource Books
This coupon is valid June 1-30, 2014. Use of discount codes is subject to the coupon policy.  One coupon per order.
A Young Scholar's Guide to Composers Product Reviews
Read what moms have said about A Young Scholar's Guide to Composers. And follow our composers board on Pinterest.

Homeschool moms are busy
Bright Ideas gets that. And that's why we promise to publish Christian-oriented curriculum that will fit into your hectic lives, curriculum that is both affordable and easy-to-use with children of different ages at the same time. Curriculum that busy Moms love! The team at Bright Ideas Press prays that our products and resources will not only help to simplify your life, but also inspire, encourage, and enable you as parents to effectively educate your children.

Subscribe to receive homeschool support articles, tips, and news and coupons from Bright Ideas Press.