Why a Veteran Homeschool Mom Should Take a Sabbatical after Graduation
Suzanne Broadhurst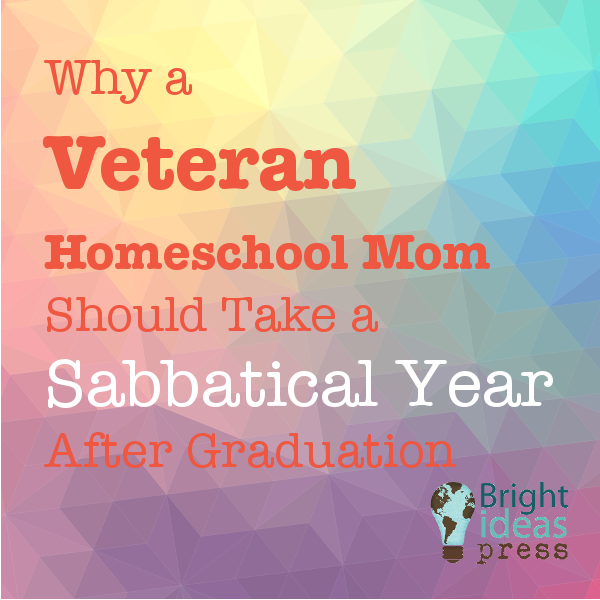 It's been over a year since I left the official homeschooling journey, my young ones both now walking the college halls. Therefore, I am now a veteran homeschool mom. I call myself a completed homeschooler
But the learning didn't end when I handed them their Soli Deo Gloria-sealed high school diplomas – for them, or for me.
Because that learning didn't stop on a dime when the calendar page turned, I encourage the primary homeschooling parent not to rush into commitments too soon after the curriculum catalogs close.
Filling Holes After Graduation
It will be tempting to fill the holes they leave behind – the emotional ones and the time ones. But I can think of several reasons to slow it down before picking back up speed.
Rest
You may not realize how tired you are until you have the chance to rest.
You have put your energies, your thoughts, your body, and your budget through the paces for many of years.  I found I was living on overdrive and didn't realize how hard I was having to push myself to get through the next step.
Perspective
Don't think you will need to rest? That's why you need to. You need time to gain perspective – of all you've done, of all you just recently were doing, and all that you'd like to do in the future.
The World Has Changed
While we were busy preparing the next generation, the world changed around us. While you take time to rest and get personal perspective, look around.
How has your home changed in 20 years?
Your neighborhood?
Your church?
Your town?
Our world: its events, philosophies and trends?
We'll want time to readjust ourselves to our discoveries.  Some we may like; some we may be disheartened by. But God knows them all and may lead us to get involved.
Hobbies
Taking a year off will give you time to look at your own interests, digging into this, scratching the surface of that.
I picked up the crochet hook – in crazy earnest – and learned a bunch about graphic design, blogging, writing, and photography.  They were all interests I dabbled in while homeschooling, but I gave myself a full year to really play. It was like Montesorri for mom.
Your Kids Still Need You
I was rather surprised by this bonus reason for taking a sabbatical year between homeschooling and whatever the next will be: my kids still need me.
They need me partly because we were a homeschooling team.
Just because they have teachers outside the cottage walls instructing them – and wooohooooo [happy dancing] correcting their homework! – doesn't mean they don't still need to lean on the bond we formed over many many years.
You and Your Children are Going Through a Major Life Transition
You've always been there for them through life 24/7.
Stay there for them. One more year. Or maybe even two. They will still need you. Realistically, they will always need you, in one form or another.
TIP: Let Them Lead This Dance
At first, it may not seem like your college students need you because they are busy spreading their wings and establishing independence. This is when you pick up the graphic design book or crochet hook.
But soon enough, they will be sharing their discoveries, their hearts, and their new worlds.
They will hear at school what they "missed out on," as the worlds of their new college friends may be different from the ones they grew up with as homeschoolers. And they will need your loving feedback – and life experiences – to lean on.
Chances are they will thank you for protecting their childhoods so they could deal with grown-up issues as grown-ups themselves.
Space to Ride the Emotions
You will also appreciate a one-year sabbatical creating space to work through – or just ride through – the myriad of emotions you will experience.
Here's a taste of the few feelings I've experienced this past sabbatical year:
My BABIES!
Ooooh, I'd like to give the whole world a giant time out!
I'm sooooooooo bored.
I'm sooooooooo busy.
I'm sooooooooo tired of people.
I'm sooooooooo lonely.
I want my space!
Talk to me, kiddos!
I love the silence!
It's too crazy quiet around here!
A One-Year Parentheses
Believe me, you'll want nice big parentheses around your life after graduation to protect your time, your heart, your budget, and your children.