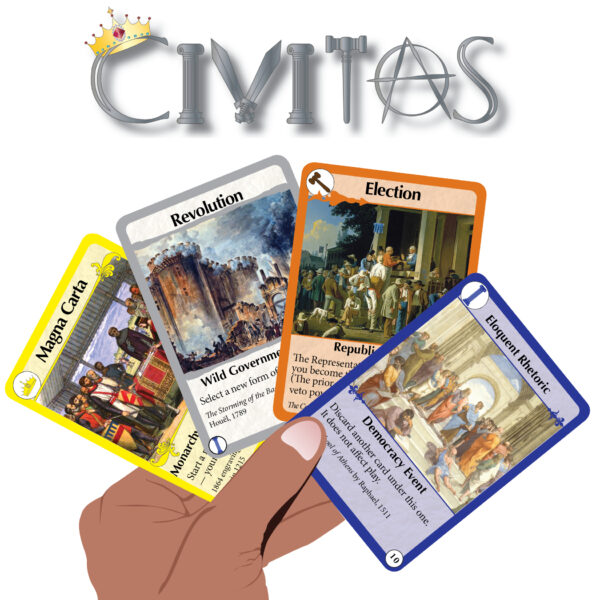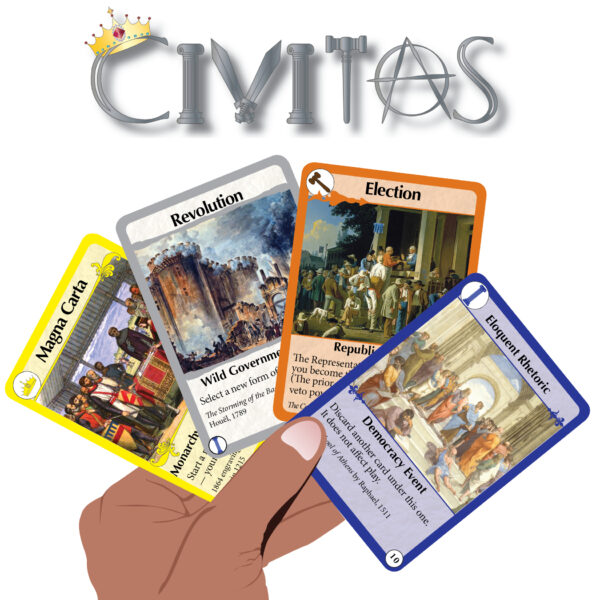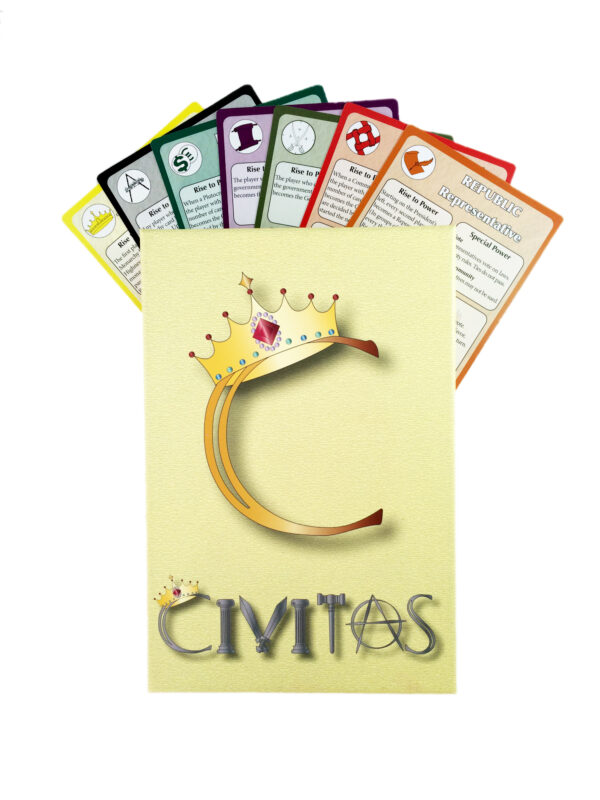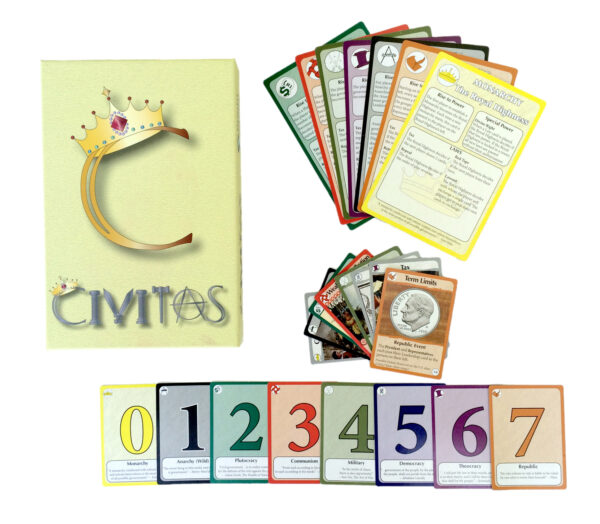 Civitas: The Government Card Game
$24.95
Civitas is a card game about different forms of government. Pass laws, solidify your leadership, and rule the table in this smart, fast-paced game.
Mix-and-match the 8 included decks to rule in a:
Democracy
Monarchy
Communism
Theocracy
Plutocracy
Military
Republic
Anarchy
Features:
Ages 10 to Adult.
Play time: 5 Minutes to an hour.
Minimal setup/cleanup.
Box includes 225 Playing cards, 12 leadership cards, and simple rules.
Out of stock
Description
Sample Lesson Plan
Reviews (18)
Additional information
Description
Civitas: The Government Card Game is a card game that teaches students how different forms of government work. Pass laws, solidify your leadership, and rule the table in a smart, fast-paced game for ages 10 and up. Compare and contrast the eight different government decks:
Democracy
Monarchy
Republic
Communism
Theocracy
Military Dictatorship
Plutocracy
Anarchy
Play with all the governments at once or try just a few each round! Sample lesson plans are available for free at PlayCivitas.com. Use the cards and the accompanying glossary of terms to launch an insightful conversation about government, human nature, and current events—right at your dinner table.
Civitas features:
225 Playing Cards, 12 Leadership Cards
Simple rules and directions—if you can play Uno™, you can play Civitas
Minimal set-up and clean-up
Playing time of 5-60 minutes
Ages 10+
---
As a perk, when you buy Civitas, you can get 101 Victorian Parlor Games free by using code PLAYGAMES at checkout. (Coupon code is not case sensitive.)
---
 What people are saying:
"Even our 5 year old played with us and had a great time."
—Dawn & Brian at ActOutGames
---
"Tyler, here is my Civics class playing your Civitas game. They loved it!! They didn't want to stop. I literally had to force them to stop because my next class was beginning. The one young man in the backwards cap became the Communist dictator, and we could not get him out of power. It was hilarious."

—Susan Kemmerer, Schoolhouse Publishing
---
"A hands-on way to learn how different governments operate while having fun—just what a homeschool mom loves. The fact that my college kids come home and love playing with their siblings…bonus points."
—Stacey Lane, Layered Soul
---
"Got to say that we thoroughly enjoyed it. This is a winner. It kept everyone (of all ages) engaged constantly in the game."
—Hal and Melanie Young, Raising Real Men
---
"Civitas is an engaging way to immerse yourselves in forms of government. Not only do you get to behave as a government would, you get to do it in a fun, fast paced card game with multiple rounds."
—Heather Woodie, Blog She Wrote
---
As a perk, when you buy Civitas, you can get 101 Victorian Parlor Games free by using code PLAYGAMES at checkout. (Coupon code is not case sensitive.)
Additional information
| | |
| --- | --- |
| Weight | 2.00 lbs |
| Dimensions | 10.5 × 6.5 × 2 in |
| Manufacturer | Bright Ideas Press |
You may also like…
North Star Geography

$

54.95 –

$

149.88

WonderMaps

Discover how much excitement maps and geography will add to your learning experience through the amazing features of WonderMaps 1.2 — You can now edit your maps right on your computer with Adobe Reader!

WonderMaps has over 300 maps, including:


75 maps of the world
60+ maps of the USA
150+ historical maps, including 30 biblical maps
The complete map sets from The Mystery of History vols. I–IV and All American History vols. I & II

Version 1.2 requires Adobe Acrobat Reader DC (a free download) and 350 MB hard drive space to run properly.

$

49.95 –

$

124.88