The Ultimate Geography and Timeline Guide Giveaway
Marinah Boyles
Congrats to Beth F! You have won this giveaway!
Are you geographically literate? Far too many Americans are sadly lacking knowledge in this vital subject. This one source book will provide you with everything you need to competently teach geography from Kindergarten through graduation. Part lesson-plans, part idea book, part unit study and part inspiration!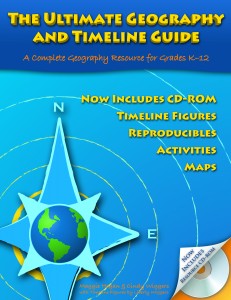 With a refreshing, inclusive introduction to the basics and numerous, well-thought-out lesson plans with suggestions for cross-curriculum teaching, you can guess why this comprehensive book contains the word "Ultimate" in its title! There are also many reproducible outline maps and 300+ timeline figures. Learn how to select appropriate reference materials, construct a timeline, and integrate a student notebook approach. Enjoy the literature unit featuring Hans Brinker or the Silver Skates or the two pure geography units for middle and high school students. Lots of activities, charts, reproducibles, games, flash cards, and the scope and sequence make for a penetrating yet fun yearly study of geography for the whole family. A great investment! Paperback, 352 pages. K-12.
*Quantity discount available when purchasing 6 or more of this item. Contact us for details!
Here's how it works:
Comment on this page for a chance to win! You can comment up to 5 times:

The first one is a freebie 🙂
Comment if you "like" us on Facebook (The Bright Ideas Press Page and/or the Illuminations Page)
Comment if you follow us on Twitter
Comment if you share the BIP Facebook page with another Facebook friend
Comment if you subscribe to the Bright Ideas Press Newsletter

Remember to post a SEPARATE comment for each of those things you do! A winner will be selected at random.
We'll notify the winner of the giveaway by e-mail.
PLEASE NOTE: (If you've never posted on the BIP website before, we'll have to approve your comment before it shows up. Don't worry though, it will still be counted!)