Ten Days of Raising a Life-Long Learner: Day 7 — Baby Steps
Maggie Hogan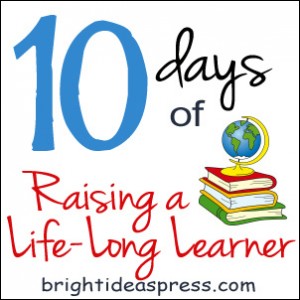 Baby Steps
Meet my granddaughters. The cutie on the left is Avalon—at this writing she is 9 months old. (Picture is at 6 months.) The spitfire on the right is Kaylee, pictured here on her second birthday. (She is now 2 1/2.) The joy of having them close by and raised by Godly parents is more than I can express! It's also been quite a learning experience for me. Seeing them through the lens of time and experience is very different from when I was in the "parenting a toddler" era. They are also prime fodder for this column 🙂
Take Avi, She is a watcher. She watches and watches and watches. She doesn't miss a minute. She is quiet and reflective and willing to try new things but she operates in a world of gentle pacing. She is learning to walk but doesn't get all stressed out and crazy when she falls or can't get up. She is capable of many things but is also content if Grandmom wants to give her something or do something for her.

Now take Kaylee, she is a doer. As in I WILL DO IT MYSELF, ALL BY MYSELF, AND LEAVE ME ALONE I AM BUSY DOING IT. Whatever "it" is – Kaylee is absolutely positively convinced that she, and only she, can do it. She tries and tries again until she "gets it right." Put shoes on the correct feet? Done. Dribble a full sized basketball with Granddad? Just about. From the very beginning, she has wanted as little assistance as possible and is offended if you try to help without her asking for it. She is non-stop run, play, and figure everything out kind of a kid.
Which of these two personalities strikes you as the best candidate for being a life-long learner? The correct answer? BOTH of them are. Why? Even though they were born with very different personalities and traits, they both have parents equally aware of their needs and of God's Word. Parents who will work WITH their personalities to guide them into adulthood and who will encourage them in the process of being Life Long Learners.
Have you watched a baby learning to walk? Some get up, fall down, try again. Some get up fall down, cry, try again. Some just get up and fall down and get up and fall down over and over again. It's fun watching the process and seeing how different each child reacts to failure (falling) and how much perseverance a particular child exhibits. Some just seem determined from the beginning and no amount of falling down will change their perseverance. Others appear to give up more easily. Yet others have their efforts helped (or hurt) by too much or not enough parental intervention.

What Type of Parent are You?
Do you jump in and help that baby, toddler, teen accomplish their goals:
Before they fall?
While they are falling?
After they have fallen?
Do you provide an environment that allows for growth, trial & error, even failure, in a safe place?
Does your "baby" give up easily because mom or dad will quickly come to the rescue?
Does your "baby" become exasperated because you almost never come to the rescue?
It's a fine line, isn't it?
We want our kids to succeed at their challenges, their goals. We want to protect them from pain (physical, mental, emotional) along the way. But we also want them to become life-long learners & problem solvers, which includes learning some things the hard way.
It is so important to know your child's temperament.
What one child needs and can deal with in terms of hands-off would absolutely crush a different child. Some need much more direction in learning perseverance, others need more in the way of limits! Know your child. Read your Bible daily, and commit this to prayer:
Lord, please give me wisdom in training _______ in perseverance so that he/she will grow into a person who has Godly character. Help me to know when to help and when to back off; when to offer advice, when to keep silent; when to encourage, when to admonish. Please Father, give me insight into their needs and personality so that I can be wise in their upbringing.
There is no definitive answer for how often or quickly a parent should come to the rescue.
But the Bible offers general principles. Regardless of whether you intervene quickly, or not at all, one vital component toward raising Life Long Learners is training your children to stay on task in order to complete their goals. This is one of the most valuable gifts you can provide. Parents, don't forget that you need to persevere so that your children finish well! Here are some verses to read, chew on, and from which to seek wisdom.
All Scripture taken from the New King James Version (NKJV).

Proverbs 24:16
For a righteous man may fall seven times
And rise again,
But the wicked shall fall by calamity.
Romans 5:3-4
And not only that, but we also glory in tribulations, knowing that tribulation produces perseverance; and perseverance, character; and character, hope.
2 Peter 1:5-7
But also for this very reason, giving all diligence, add to your faith virtue, to virtue knowledge, to knowledge self-control, to self-control perseverance, to perseverance godliness, to godliness brotherly kindness, and to brotherly kindness love.
2 Chronicles 15:7
But you, be strong and do not let your hands be weak, for your work shall be rewarded!
Tomorrow: Tweens and Teens


Be sure to visit these brilliant women during our
10 Day of Adventure between November 7th-18th!
I love these ladies and I know you will too.

10 days of Character Studies | Confessions of a Homeschooler
10 days of Christmas Countdown Ideas | Milk & Cookies
10 days of Creative Writing | Chocolate on My Cranium
10 days of Crockpot Meals | The Happy Housewife
10 Days to a Godly Marriage | Women Living Well
10 Days of Growing Leaders | Mom's Mustard Seeds
10 Days of Homeschooling High School | Weird Unsocialized Homeschoolers
10 days of I Wish I Had Known | Fruit in Season
10 days of Keeping Your Marbles | The Tie That Binds Us
10 days of Kid-friendly Food | Planner Perfect
10 Days of Language Arts Lesson Planning | Jimmie's Collage
10 Days of Apps | Daze of Adventure
10 Days of a Mason Jar Christmas | Cajun Joie de Vivre
10 Days of More JESUS in Christmas | Preschoolers and Peace
10 Days to a Peaceful Home | Raising Arrows
10 Days of Raising a Life-Long-Learner | Bright Ideas Press
10 days of Science with Math | Blog, She Wrote
10 days of Teaching Values | Our Journey Westward
10 days of Winning your Child's Heart | I Take Joy