Ten Days of Raising a Life-Long Learner: Day 6 — Research Ninja Skills, Part 3
Maggie Hogan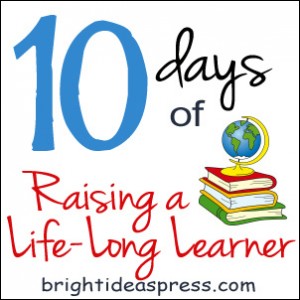 Ninja Research Skills (Part 3)
Absolutely Indispensable Reference Helps
Yesterday, we talked about sources for finding out pretty much anything and how to discern which sources are reliable.  Today, let's discuss specific books and sites.
Bibles
I highly recommend owning several versions besides your family's preferred translation.
Dictionaries
Sigh, so many dictionaries to love and so little time to read them…
Thesauri
NOTE: The one in your word processor DOES NOT count.
The paperback that has words just arranged alphabetically isn't much better.
Almanacs
Do you know what amazing information a good almanac contains?
Optional, but every home library would benefit from a recent almanac.
[Warning: sadly, many student almanac's contain pop culture so
please look through yours carefully before handing it off to a child.]
Quotations
A book of quotations is best arranged topically in order to
find just the right quote. These are great for history papers,
storytelling, inspiration, and enlivening dinner conversation!
Favorite Writing Reference Books
Well, I ran out of time before I got to atlases (possibly my most favorite reference material of all. Or maybe not. So hard to have a favorite child!) but that's how I roll. So, here's hoping you stop back for Day 6:
A Close Look at Atlases:
Ninja Skills for Finding Your Way!
Be sure to visit these brilliant women during our
10 Day of Adventure between November 7th-18th!
I love these ladies and I know you will, too.
10 days of Character Studies | Confessions of a Homeschooler
10 days of Christmas Countdown Ideas | Milk & Cookies
10 days of Creative Writing | Chocolate on My Cranium
10 days of Crockpot Meals | The Happy Housewife
10 Days to a Godly Marriage | Women Living Well
10 Days of Growing Leaders | Mom's Mustard Seeds
10 Days of Homeschooling High School | Weird Unsocialized Homeschoolers
10 days of I Wish I Had Known | Fruit in Season
10 days of Keeping Your Marbles | The Tie That Binds Us
10 days of Kid-friendly Food | Planner Perfect
10 Days of Language Arts Lesson Planning | Jimmie's Collage
10 Days of Apps | Daze of Adventure
10 Days of a Mason Jar Christmas | Cajun Joie de Vivre
10 Days of More JESUS in Christmas | Preschoolers and Peace
10 Days to a Peaceful Home | Raising Arrows
10 Days of Raising a Life-Long-Learner | Bright Ideas Press
10 days of Science with Math | Blog, She Wrote
10 days of Teaching Values | Our Journey Westward
10 days of Winning your Child's Heart | I Take Joy