Ten Days of Raising a Life-Long Learner: WowBooks Part 3 – Conclusion
Maggie Hogan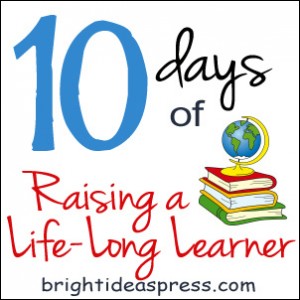 Day 1 I gave an overview of what WowBooks are.
Day 2 I provided examples of WowBooks well suited for six different learning styles.
Today, I'll provide examples of ways to use WowBooks for Bible, history, and science.
Bible WowBooks? Absolutely! Let me say first off that this is totally not disrespectful. I am not suggesting we are improving on the Bible, rewriting the Bible, or dumbing down the Bible. In fact, if you think about it: the Bible is the ultimate notebook. It's God's record for us.
In it we find stories of:
danger and intrigue,
faith and perseverance,
sin and judgement,
redemption and renewal.
We read incredible descriptions of people's lives—their hopes and fears, terrors and triumphs. We find history, geography, science, literature, philosophy, government, health and so much more. Using:
first person narrative,
parables,
poetry,
proverbs,
and a variety of writing styles,
God has left us with the most amazing and powerful notebook every written!
Two of my favorite Bible WowBooks arose from a course I taught to a small group of homeschooled 13-15 year olds. Their assignment was to "present new information–on a topic of their choosing–in an interesting manner." It had to have a visual component and I did NOT want a "book report." These young teens all did such creative projects! Out of this assignment came my favorite WowBook of all time: The Book of Esther ABC book.
What is an ABC book and how could it be a high school level activity? I discovered these my first year of homeschooling and used them throughout my boys' schooling. The concept is simple: for every letter of XYZ topic, find a word or concept for each letter of the alphabet, define it, and illustrate it. (When my sons were young we did a family ABC book on Ancient Egypt. It is usually not realistic to assign 26 letters to a single pre-teen. Either cut down the amount of letters or pair students to work together.) Of course, you have to provide parameters as they grow, for example, my 6-year-old could use "N is for Nile" on Ancient Egypt but my 11-year-old would need to find something less obvious.
I digress. Back to my story. Our youngest, Tyler, choose to do an ABC book on the Book of Esther in the Old Testament. Esther lived during the time period we were learning about but she had not really been a part of the course. He was interested in learning more about her and that made it the perfect choice!
He began combing the Book, taking notes on important words or concepts as he read, and read, and re-read Esther. Over the course of 3 or 4 weeks (this was an End of Unit Project, one was required every 8 weeks so he had plenty of time) he got his ABC list together, defined the words, and began the process of illustrating it. Tyler choose to use a combination of simple timeline figures, stickers, and markers. Not especially sophisticated but that wasn't the goal—it just needed to be visually interesting.
The day before it was due he showed me what he had and I was pretty pleased. I decided it was worth covering each page in contact paper and so sat down to help him do so. While we worked together on this, a young lady from our church stopped by to visit and the following conversation ensued.
"Tyler, what are you doing?"
He replied, "Making an ABC book about Esther."
"Esther who?"
"You know, Esther, in the Bible," he said.
No, she didn't know. From a non-churched family and only a recent attendee at our church, she had never read the Old Testament.
Now Listen for the WOW: I sat quietly as Tyler proceeded to tell her, practically paragraph by paragraph, the entire Book of Esther. Amazed, she said to Tyler, "Wow! I never heard that before. I can't wait to get home and read this book myself."
I still get goose bumps, people!!! He had digested the book of Esther due to all his time spent in it looking for ABCs. He had hid the Word in his heart.
Now truly, it took all I had to not then suggest that he do EVERY book of the Bible this way! Yes, I get carried away sometimes…
Check out these other WowBook ideas! Click on the name to go to picture & description.

History & Geography
1. Spice Books
2. Money Book
3. My Geography Autograph Book
4. Native American Games
5. George Washington's Pancakes
Science
1. Biology WowBook
Using information from Christian Kids Explore Biology, this fold-out WowBook consists of legal sized envelopes trimmed to contain cards about each Unit. The front & backs of the book are made from corrugated cardboard, decorated simply, glued to the fold out envelopes, and tied together with string.

Research from Christian Kids Explore Earth and Space turned into a fun, glow-in-the-dark WowBook! Black paper and gel pens turn an ordinary report into something visually exciting!

3. Look at the Day 1 post for pictures and descriptions of two more science WowBooks!
Are you excited by the possibilities yet?! Because really, WowBooks can be used in more ways than I can imagine and there is the perfect WowBook for your students to discover for themselves. Help them to find what works and show them the power and beauty of owning information by capturing it in a way worthy of their time and effort. This act—this assimilating and presenting new knowledge—will serve them well all of their lives!
Check back tomorrow for Day 4 of Raising a Life Long Learner!
Be sure to visit these brilliant women during our
10 Day of Adventure between November 7th-18th!
I love these ladies and I know you will too.

10 days of Character Studies | Confessions of a Homeschooler
10 days of Christmas Countdown Ideas | Milk & Cookies
10 days of Creative Writing | Chocolate on My Cranium
10 days of Crockpot Meals | The Happy Housewife
10 Days to a Godly Marriage | Women Living Well
10 Days of Growing Leaders | Mom's Mustard Seeds
10 Days of Homeschooling High School | Weird Unsocialized Homeschoolers
10 days of I Wish I Had Known | Fruit in Season
10 days of Keeping Your Marbles | The Tie That Binds Us
10 days of Kid-friendly Food | Planner Perfect
10 Days of Language Arts Lesson Planning | Jimmie's Collage
10 Days of Apps | Daze of Adventure
10 Days of a Mason Jar Christmas | Cajun Joie de Vivre
10 Days of More JESUS in Christmas | Preschoolers and Peace
10 Days to a Peaceful Home | Raising Arrows
10 Days of Raising a Life-Long-Learner | Bright Ideas Press
10 days of Science with Math | Blog, She Wrote
10 days of Teaching Values | Our Journey Westward
10 days of Winning your Child's Heart | I Take Joy