Homeschooling for Real Moms {Part 2}
Maggie Hogan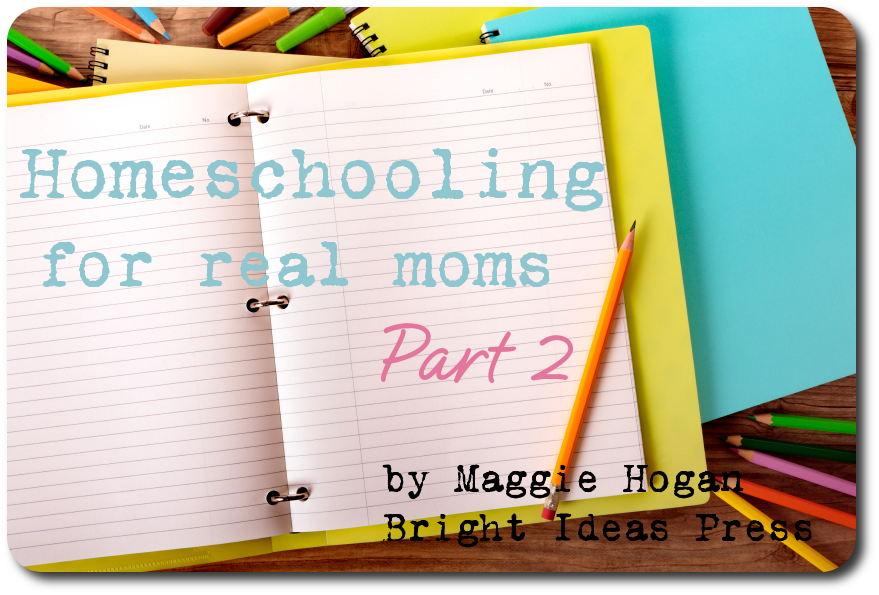 As
I shared before
 in Part 1,
I am a real mom
. And not always the most organized one. Here are a few tips I've learned the hard way.
1. Plan
Okay, you're laughing at me. But at some point I realized that if my kids' education was really important to me, I'd have to put some time into planning. Realistically, I knew I wouldn't  keep up with daily lesson plans. But I discovered that I could sit down once a month and write monthly objectives.
What works best for you?
A summer planning marathon?
Monthly?
Weekly updates?
Or nightly reviews of what you got done that day and hope to accomplish the next?
2. Consolidate teaching time
How many times a week do you teach history or science?
Do you and your children function best with a little every day?
A medium amount 2 or 3 times per week?
Or a big chunk once a week?
For us it worked best to teach these two courses twice a week through about 5th grade, then once a week in the upper grades. On the days when I wasn't specifically teaching, my boys had reading and other assignments to work on. I found that doing history or science in one or two big chunks was more interesting because we were able to dig deeper into the subject before running out of time.
Bonus: Combine courses. Study literature with history, history with geography, or geography with science.
3. Think outside the box
Creative map and timeline work can count for history, geography, and art. Pay attention to community service hours, Scout projects, sports, church events, family trips, and other "non-school" endeavors that are actually educational.
4. Choose your time wisely
Know your students, yourself, and your household. What is the most productive time for each lesson or task? Personally, I couldn't care less about Alexander the Great at 8:00 a.m., but I find him truly fascinating later in the day!
5. Bedtime bonus
One ritual that was consistent in our home when the boys were younger was a story at bedtime. We often used compelling history books or books with science topics during this special time.
In my next post on this topic, I'll share 5 more tips I've learned the hard way that will make your homeschooling easier!