Top Ten Books for Toddlers
Maggie Hogan
Note: I'm assuming you have your own favorite children's Bible.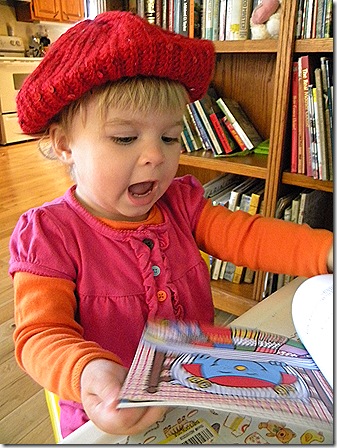 1.    Jamberry by Bruce Degen – Sooo much fun to read out loud!
2.    Barnyard Dance by Sandra Boynton – Who can resist this one? And you can read it over and over and over without going nuts. Mostly.
3.    Goodnight Moon by Margaret Wise Brown – But of course. (If not this one, then certainly pick Millions of Cats by Wanda Gág.)
4.    Me Too! by Mercer Mayer – Especially for the toddler's older sibling.  🙂
5.    Little Bear books by Else Holmelund Minarik – Is there anything sweeter than Little Bear and his grandparents?
6.    17 Kings and 42 Elephants by Margaret Mahy – Love the illustrations and the rhythm!
7.    Mother Goose & other poems – Cultural literacy, people!
8.    My Good Morning Book by Eloise Wilkin – Will never part with my copy.
9.    I Like to Help My Mommy – A First Little Golden Book. Ditto.
10.    Ack! Just ten? You pick —-> If You Give a Mouse a Cookie or One Fish, Two Fish or Are You My Mother or what???
Bonus!
Top Ten Books I Cannot Stand Reading to Toddlers
1.    Anything by Richard Scarry – Sorry, but his pages that so appeal to some. . .  make me dizzy.
2.    Harold and the Purple Crayon by Crockett Johnson – Although beloved by many, Harold exists in a world without walls or dimensions, and this completely creeps me out.
3.    Anything with a Disney character (P.S.: This does NOT include Winnie-the-Pooh because he/it was a book first.)
4.    Amelia Bedelia by Peggy Parish –  I suppose there is nothing especially wrong with these; I just don't like them.
5.    Anything poorly written or poorly illustrated. There are too many well-drawn and well-written books to bother with junk.
6.    In the Night Kitchen by Maurice Sendak – I dislike the disturbing story and the weird illustrations. And while I'm at it, I was never overly fond of Where the Wild Things Are, either. He should have stuck with Little Bear. (I'm sorry and Rest In Peace, Mr. Sendak)
7.    Any book with "Poop" in the title. Seriously.
8.    Hop on Pop by Dr. Seuss – I love many of his books, truly. But this one? I'd rather poke myself in the eye than have to read it out loud.
9.    Thomas the Tank Engine anything. Sorry. Can't do it.
10.    Dracula: A BabyLit Counting Primer by Jennifer Adams –  OK, I haven't actually read this, but really ?! I have no words.
List based both on what I enjoyed reading out loud and my sons (and other children) enjoyed listening to!
Obviously, a very opinionated list. <Grin>