Workbook Memories
Suzanne Broadhurst
Take it from one who is clearing out her curriculum shelves as the adventure winds down:  Your children don't need as much as you think they do.  And you need more.  At least experientially, more.  (And probably more rest, but that was last post.)
I know.  Some of us would rather run to the store to buy another set of workbooks than take the time to plan a memory.
Please.  Put down the workbook.  Or the extra workbook series you think your children won't live through college without.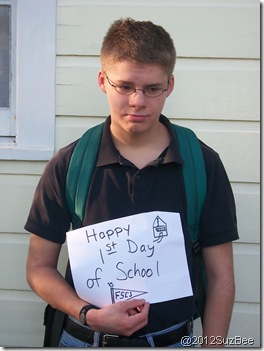 Really?  Why do we buy them?  So many of them?  In my case, all those extra workbooks were like comfort food for my public school-raised soul.  They brought me back to happy times when I was sick in bed and had to miss school proper.  I would lay on my bed, propped up by pillows, pencil in hand, homemade lap table on my lap, turning page after page of colorful workbook accomplishment.   Workbook times = good times.
But, here's a tip from an not-as-old-as-I-feel-sometimes-timer:  Enjoy the memory-making.  Leave the workbooks on the shelf (unless your children love workbooks).  And make a memory.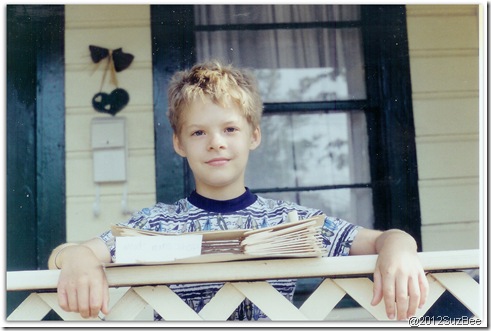 Your children will still learn – probably more! – and they will most likely be happy about it!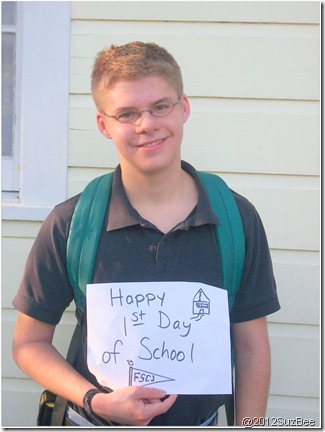 Although … he may not be thrilled when Mom makes him, the enrolled College Man, stand with a First Day of School sign because she's so proud he learned well as a homeschooler and now is heading off to his first day at school-school!  At least he's learned to be tolerant of his mama's heart for him. And yes, I am refraining from blowing kisses.  Don't want to embarrass the kid!
Enjoy your children, and enjoy yourself too!
Fluttering by for now,
Remembering so many good times (and so many – unused – workbooks),