Top Ten Favorite Outdoor Games
Audrey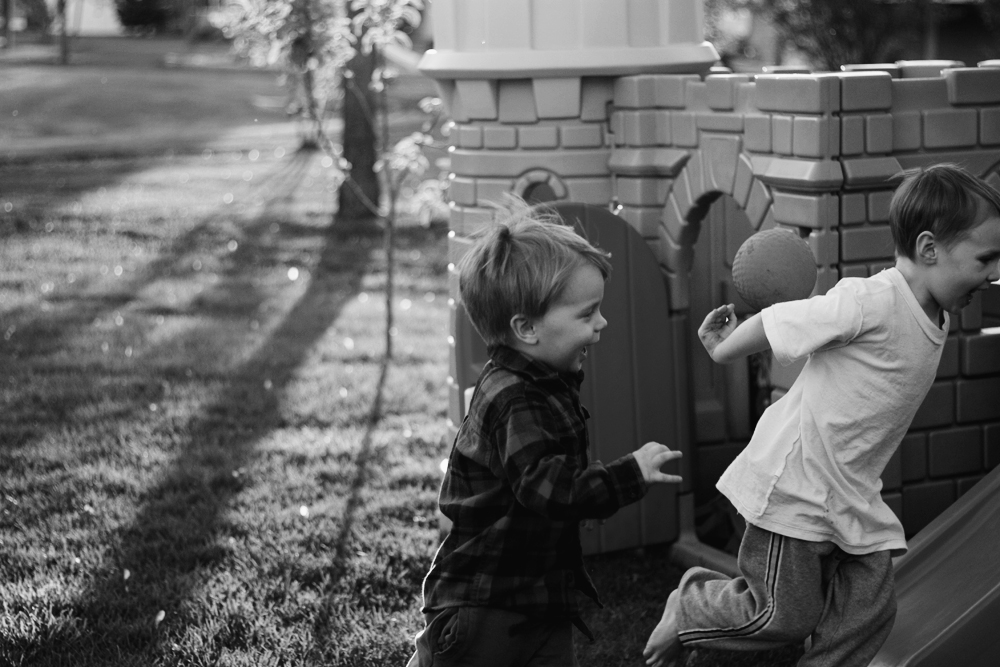 photo credit: @finding_joy
Sardines

Of course, hide-and-go-seek is probably the best outdoor game ever, but since you probably know this one I'm including Sardines, instead. This game is basically hide-and-go-seek in reverse. So instead of one seeker and many hiders, you have one hider and many seekers. The person chosen to be "it" runs and finds a good hiding place and everyone else looks for him. If one of the seekers finds the hider, he must hide with him! The game continues until everyone has found the hiding place and has squeezed into it like sardines. In the next round, the person who was the first to find the hider in the previous round gets to hide. This game is most fun in the dark in an outdoor area with lots of hiding places.

Four Square

A classic driveway game, four square is played with four players and a bouncy rubber ball. If you don't remember the rules, click here!

Adventure Time

Having an outdoor adventure can provide exercise for both your body and your imagination! There's nothing like a good old game of pretend. Try this activity, taken from the All American History Vol. I Teacher's Guide:
"Plan your own expedition to explore the 'unknown territories' of a local park. When Thomas Jefferson dispatched Lewis and Clark to explore the uncharted West, he believed they would encounter woolly mammoths, volcanoes, and a mountain of salt. What do you think you will discover on your expedition? Bring a journal or a camera along so that you can record your discoveries – people, animals, and terrain. Pack a lunch; your journey might be long!"

Red Light Green Light

This classic game is great for younger kids. One person is chosen as the traffic light and stands at one end of the yard, while everyone else stands at the other end. When the traffic light shouts "Green Light," everyone runs as fast as they can towards the traffic light. When the traffic light shouts "Red Light," all players must instantly freeze in their positions. If anyone is caught moving, they are sent back to the start. The first person to touch the traffic light wins and becomes the next traffic light.

Don't Touch the Lava

(Great for all ages!) This game only has one rule: don't touch the lava! A volcano has exploded and the ground (or living room floor on a rainy day) is completely covered in boiling hot lava. Pick starting point and an ending point and try to figure out how to traverse the yard without touching the ground. Use objects like chairs and upside down buckets as stepping-stones to create a safe path to the other side. This game is one of my family's favorites because it requires a lot of imagination and creativity—and there aren't many rules. I spent hours playing this as a kid!

Tag Variations

Tag is an all time favorite game because it's simple. So simple, in fact, that it might get boring. Try one of these variations:

Blind Man's Bluff  The person who is "it" must keep their eyes closed or wear a blindfold while they try to tag the other players.
Shark Tag  In this version, the "it" person is a shark, and everyone else is a minnow. The minnows start out in a safe zone (these can be set up as two end zones, or you can lay down several hoola-hoops in the yard). When the shark yells "Minnows Across!" every minnow must run to a different safe zone. If they get tagged, they become a shark as well. The game continues until there is one minnow left. The last minnow becomes the shark for the next round.
Elbow Tag  Choose one person to be "it" and one person to run. Everyone else finds a partner to link elbows with and stands at a random place in the playing field. If the runner gets tired, he may grab onto any stationary player's elbow and steal him to be their new partner. The other partner must then leave and become the runner. This game works best if the runner grabs onto the closest elbow available, because then everyone gets a chance to run for awhile. When the "it" person finally tags the runner, he becomes the runner and the tagged person becomes it, so he must hurry and grab an elbow. This game never actually ends… but it is a ton of fun and a great way to expend some energy!

Spud

This outdoor game is sort of a mix between tag and dodge ball. Every player gets a number and crowds around the person who is "it" for that round. "It" then tosses the ball straight up and the other players run away. As the ball reaches the top of its toss, "it" calls out the number of one of the other players and then also runs away. The player whose number was called must run back and catch the ball (or chase after it if it is bouncing around). Once that person has the ball, they yell, "Spud!" Then everyone else must freeze. The person with the ball must try to hit one of the players with the ball. If they do, that new person gets a letter (first S, then P, then U, then D) and is now "it." If they miss, the person who threw the ball is "it" for the next round.

Ultimate Frisbee

Possibly one of the best sports ever invented, this game can be played with two teams of 4 or more. The basic premise is very similar to soccer. The goal is to get a Frisbee across the other team's goal line by passing it to teammates. It's a fun, easy game that anyone can join in, even if they aren't very much into sports. For a list of rules, click here. Tip: it is technically possible to play with a cheap-o Frisbee, but an ultimate Frisbee regulation disc will be a hundred times easier to catch and throw!

Bocce Ball

This is a cool, relaxing yet competitive game that involves throwing balls. It can be played with two people or with two teams of any number of people. Each player should have his own ball, and there should be one extra ball to use as the pallino. The first player steps up and throws the pallino to a random location. Each player then tries to toss his ball from the same location so that it lands closer to the pallino than any other player's ball. Once all the balls have been thrown, everyone measures to see whose ball was the closest. The person with the closest ball wins one point for their team. However, if the team with the closest ball also has the second, third, or fourth closest balls, they get additional points: one for each ball that is closer to the pallino than the closest ball of the opposite team. The first team to get to 13 points wins. For more detailed rules, click here. You can purchase an official bocce ball set online, or you can play with any random balls you have lying around the house!

Corn Hole

This simple game has gained a lot of popularity over the past few years. The goal is to toss bean bags into a hole in a small wooden platform. The two wooden platforms are set up with a distance of 20–40 feet between them. Four players are required, with two players on each team. Each team has four bean bags. One member of the team will stand on each end of the playing field. To start, one player will make an attempt to toss one of his bean bags onto the platform at the other end. If his bag lands on the platform, it is worth one point. If the bag goes through the hole in the platform, it is worth three points. The opposing player standing next to him then throws one of his bean bags. He can try to make it in the hole, land the bag on the platform, or try to hit the other player's bean bag and knock it off the platform (though he should be careful not to knock the other team's bag in the hole!). The two players take turns until each of them have tossed all four of their bean bags. Points are tallied at the end of that round based on how many bags are left on the board and how many went in the hole. Typically, cancellation scoring is used. If one team earned 4 points and the other team earned 3, the points cancel each other out so only the first team receives 1 point. The two players at the other end then pick up the bags and start a second round of tossing. Play continues until one team reaches 21 points. Click here for more detailed instructions.

You can purchase corn hole boards and bean bags online, or you can make your own! If you have some boys that like carpentry, show them these dimensions and allow them to make their own platform. If your kids have basic sewing skills, encourage them to make their own bean bags. Hmmm…maybe they could sell them to neighborhood kids?
No matter what games your family likes to play, the important thing is that you all get outside and do something together. Younger kids tend to do this on their own, but your highschoolers may have forgotten how much fun it is to just PLAY. Remind them to take advantage of the warm weather, daylight savings, and no school!
Now you know my favorite games. What are yours? I'd love to get some new ideas!