Top 10 Things for Family Summer Fun
stacey lane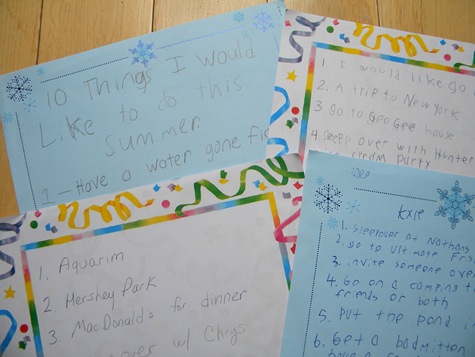 Medical bills have depleted our summer fun budget, so instead of moping through the hazy, hot days; I have developed a plan. Gathering my children around, I gave each one a festive piece of paper. Sometimes fancy paper can lead to fancy ideas. <grin>
I explained that I was looking for ideas things they would like to do this summer. I sent them to separate rooms in the house; I wanted to avoid duplicate answers.
Once everyone's list was completed we gathered in the living room to share our Top 10 list. After the initial shock caused by my daughter writing "pulling weeds from the garden" on her list and the cheers that went up over "no mention of school for a week," we began negotiations on our combined list. We needed to agree on ideas that, for the most part, all four children from 7 – 16 would be happy to participate in.
Drum Roll Please!
Lane Family Top 10 List for Summer Fun
Sleepover week. Everyone gets to invite a friend for a sleepover.
Badminton Tournament. Best out of 3 games, winner bakes the dessert.
School Free Week! No schoolwork, no mention of schoolwork, and no planning schoolwork.
A Star Wars/ Star Trek themed weekend! Complete with a Borg cake.
Weekend at Gee-Gee's house for miniature golf.
Fishing Trip with Dad.
Ice Cream for dinner. Serve up special toppings and double flavors.
Picnic dinner at Killen's Pond complete with a Frisbee golf game.
Day trip to the beach with friends.
Erect an HO scale train set in Mom Mom's garage.
Now it's your turn. If you have non-writers, this can be done verbally and in a brainstorming way: no wrong answers. Be creative! Assemble the kids and prepare a Top 10 List for your own family.
I would love to hear YOUR ideas.
What are some things that made your list?