Oobleck Party!!
Melissa
Friday was the Second Annual Bright Ideas Press Science Extravaganza!!
Tyler brought the Lane and Craig kids to tbe BIP office to make Oobleck. After a quick science lesson explaining the properties of Oobleck, we broke out the cornstarch and Tyler showed everyone how to make it.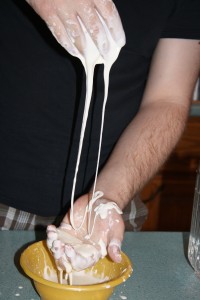 Then the kids each mixed their own bowls of the stuff, complete with food coloring for added fun.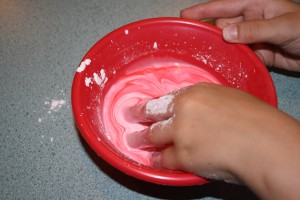 What makes Oobleck special is that it is a non-Newtonian fluid, meaning that it does not maintain a consistent viscosity. if you push through it gently, it is a liquid. But if you apply force, it becomes a solid. As the force dissipates, the substance returns to its liquid state. Once they had it mixed, the kids enjoyed playing…and punching it.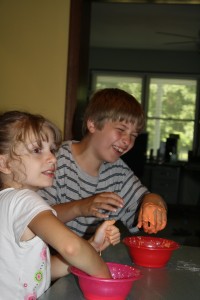 In typical Tyler fashion, individual bowls were not enough, and the fun wasn't over. He brought everyone, along with their bowls of Oobleck, outside to mix a whole tub of Oobleck to run through. After hypothiszing what would happen when they tried to run through it…
…we added almost 24 pounds of corn starch…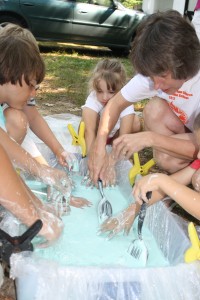 and the fun began – everyone lined up to take a turn…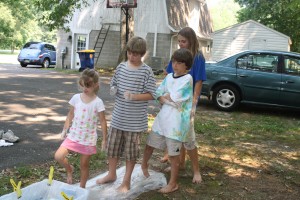 …and even the office staff came out to play (Here's Tyler, jumping)…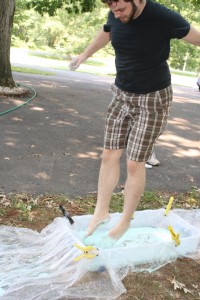 Need some summer excitement?
Mix together water and cornstarch until it oozes easily through your fingers, but becomes solid when you apply pressure. There is no specific recipe, but if you need a starting point, mix 1 1/2 cups of cornstarch with 1 cup of water and go from there.
Have fun! Add food coloring!
Make it pool-sized in a wading pool, or mix it in something wide and flat like a 9×13 pan!
Whatever you do though, don't pour it down the drain or leave it out for later unless you're interested in making cement!
After you've tried it, tell us your Oobleck experiences – we want to hear!