Coloring with a Rainbow
Melissa
It's true, I'm in love with crayons. There's something so soothing about a brand new box of crayons – the broad spectrum of colors, pointy tips all standing at attention, just waiting to be used. So new crayons have become an automatic part of the beginning of our school year. Sometimes I buy a box for each child; sometimes I buy one big box. The result of this crayon addiction is that we have an abundance of "old" crayons at our house.
So as I was trying to ready the school room… (The realtor would call that room the dining room; others would just walk in and be confused at the dining room table with books and notebooks, timelines and grammar charts strewn all around. Homeschoolers would either feel at home or have a panic attack. I predict a 50/50 split. But I digress. This was supposed to be a post about crayons.) Anyway, I was cleaning up the school room and there was our baby-wipe container of old crayons, (Doesn't everyone store things in baby-wipe containers?) and I thought…"Something must be done!" So a short jaunt through the files of my memory and a quick Google search reminded me that these could be recycled in an awesome way!
I set my children to crayon-peeling.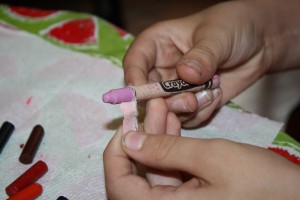 And then we got out the muffin tin and put muffin cups in each one. We chose color combinations, trying to limit them to three colors per muffin cup so that we wouldn't end up with color mud, then broke the crayons into pieces and put some in each muffin cup.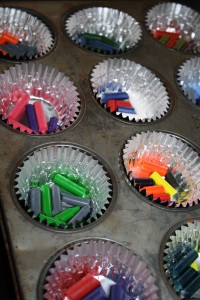 Please take a moment and notice my well-loved muffin tin. Some bloggers would have felt the need to buy a new one just for the post, but I wanted to be authentic.
We stuck the crayons in the oven on 275 for about 7 minutes. (We turned the light on and the kids had fun watching them melt.)
We now have patriotic crayons, camouflage crayons, crayons perfect for coloring sky and grass, girly crayons…your imagination is the limit!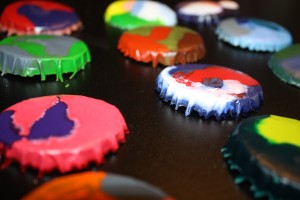 Bonus? We had a blast. So if you're looking for something to do on one of your last days of summer, make new crayons and build some memories.
Other variations:

– I've also read that you can use silicone ice cube trays, but this is un-tested by me! Be sure to place them on a lipped cookie sheet so that if they melt, your mess is contained!

– Melt the crayons, sorted by color in styrofoam cups in the microwave, then spoon the colors into muffin tins or ice cube trays. Freeze them, and the crayons should pop right out!)