Homeschooling When Mama Has a Chronic Illness
Suzanne Broadhurst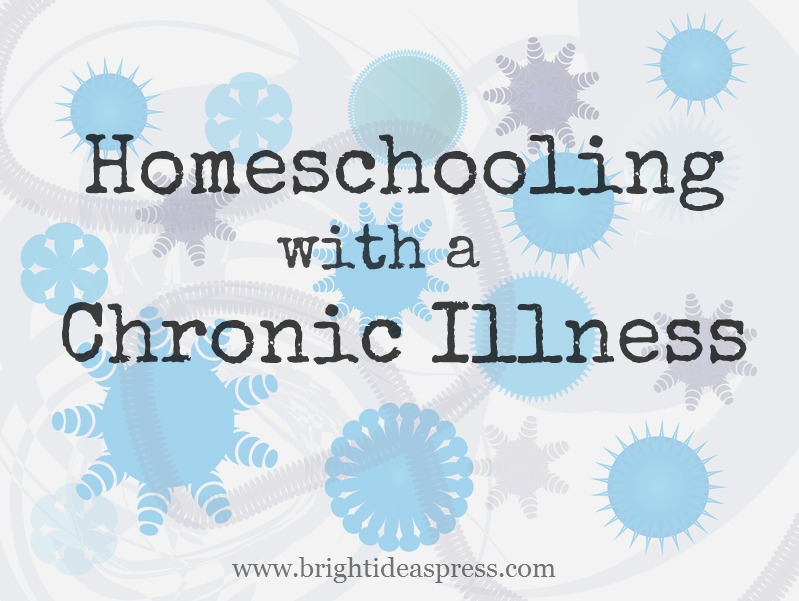 Oy, it's going to be one of those days. "Children? Come to Mommy's room, OK???" The older they get, the more easily they will recognize the tone of voice: Mommy's not feeling so good. If you have trained them along the way, they will know just what to do.
But when they are little, they just don't understand why Mommy can't run after them, and why Mommy can't play trucks with them, and why Mommy can't clean up the mess they made.
"Clean it my-shelf? But why, Mommy? You do dat!"
They don't know why or how, so like learning to read, they must be taught: "Sweetie, you can do it. Just get the towel and blot the spill."
"What's a blot, Mommy?"
Oy, it's going to be one of those days.
In this post, I'll be focusing mostly on homeschooling when the primary home educator, typically the mama, feels less than average (has an illness) and feels that way more often than she would like (has a chronic illness).
You can do it, Mom, and so can they. Life might be a little mixed up in the training process, but homeschooling with a chronic illness can be done. It's not intrinsically fun, but it can be. It's all in the perspective and the expectations.
Perspective
First Non-Tip: See your children's future through your past. Don't do this. Whether it's your childhood or your previous dreams for your child's childhood, don't look back.
First Tip: See life through your children's eyes, not your own. Adults tend to view life through the past. We can't help it; it just comes naturally. But our children see life from here on out. They aren't looking over their shoulders at what they are missing. They are looking forward to what's coming. So don't worry about what you experienced that they will lack. Look at what you can offer. And build expectation.
Expectation
Second Non-Tip: Look back to build expectation. Don't do this. Our limited offerings of illness-compensating reality look meager in contrast to our own rich early days. (Selective memory is top-notch at laying on the guilt.) We will be sad—that's OK—but our children just want to know that they are loved and that someone has their back.
Second Tip: Look forward to build expectation. Look at all the possible ways you can bring joy,  laughter, learning, and hope to your children. Create expectation for your children, even if it is as simple as "Next time Mommy has a doctor's appointment, we'll stop by the store and pick up a treat!" or "As soon as Mommy's headache gets a little better, we'll play dollbabies in my bed."
Building expectation for positive experiences will help take your mind off the long-term expectations you had before your diagnosis and off the short-term plans you made before the current flare.
I've not nailed this one perfectly as a parent, but I did shoot for hitting the nailhead more often than not. We have had so many wonderful adventures together! And after hearing sweet words of unexpected encouragement from my children over the years, I think the love-nail sank deep into their hearts, too.
When I was little, my daddy was in the hospital a lot, but he encouraged me to bring my toys when I visited. Not so that I could play quietly in the corner. So that we could play together, bending Barbies around the metal triangle suspended above his bed. Good memories, even though in tough times.
While you are limited in some ways by having a chronic illness, you have much to offer your children that they might not have gained had you been healthy. Compassion for the weak, the weary, and the wounded is a rare gift among youth today. Count your children in on the blessed bunch to be learning it firsthand. In your home. At your feet. From your heart.
And in the precious words my children have spoken over me, over and over, "I hope you feel better, Mommy."



www.suzannebroadhurst.com