Frugal Finds for Education at the Dollar Store
Maggie Hogan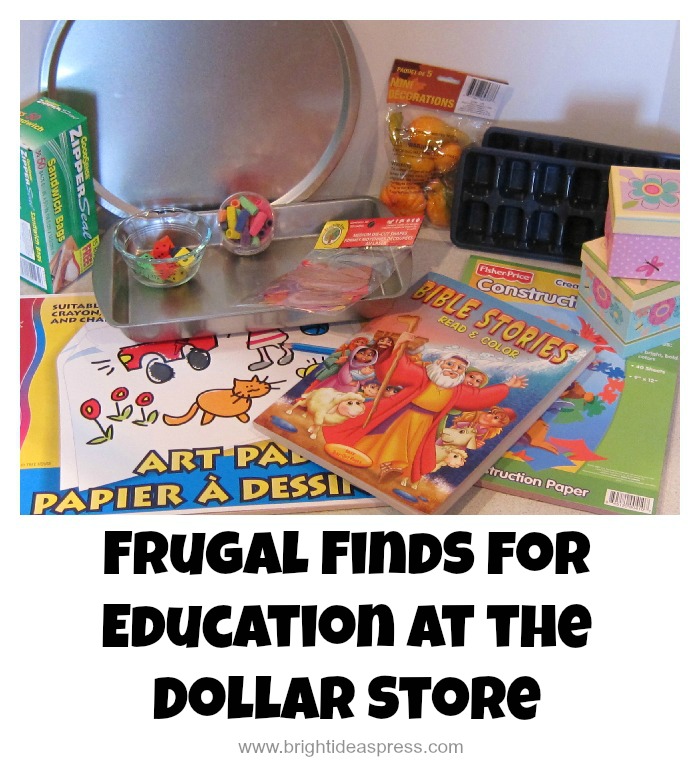 Pizza Pan, Brownie Pan  |  Ice Cube Trays (2/1.00)  |  Zip Storage Bags  | Art Pad, Construction Paper  |  Bible Coloring book  | Fall Die Cut Shapes  |
Pumpkin/gourd bag  |  Dice Erasers, Cap Erasers  |  Nesting Boxes  |  Posterboard (2/1.00)
Now what am I going to do with all these goodies? Well, even though my sons are well grown, I have two (almost three!) granddaughters and the three-year-old is very much interested in doing "learning games" with Me-Ma. (And Me-Ma loves this special time!) So I keep my eye out for inexpensive items to use for Pre-K fun. Here are my plans for this batch:
Magnetic pans. These will be used with our magnetic letters. Kaylee and little sister Avi both love magnets on the fridge so I wanted a smaller version without paying bigger bucks. Bonus: the small rectangular pan will be a great car ride toy!
Ice Cube Trays. I have been using cardboard egg cartons for fine motor skills, counting, and following directions for awhile now. The ice cube tray sections are smaller and will require more dexterity on her part. She uses tongs to place little pom poms into each opening, according to my instructions. For example, "Put 5 blue ones in the holes."
Cheap storage bags are a bonus for storing little pieces and I may make the storage bag book for Avi or the new baby.
Art pads and construction paper. Can never have enough drawing paper here – especially the oversized type! Great for practicing cutting skills and following directions. Will also use for tracing and many other activities.
Bible coloring book. I looked through a number of their books to find one with big, simple pictures and was pleased that this one contains simple versions of well known Bible passages.
Fall Die Cuts and Gourds will be added to the Fall Sensory Box I am making. I love the ideas on Totally Tots – although mine aren't as elaborate. For example this Transportation Sensory Box.
Dice and Cap erasers. Funny thing, I didn't realize that the dice were erasers until I read the receipt at home! I was all about getting that many colored dice for a dollar. Bonus: they are quiet when they are rolled and they don't bounce off the table. I'm adding these cuties to my collection for sorting, counting, following directions. ("Line up all the yellow toys. Put 4 blue toys in the box.")
Nesting boxes. A place for her to put the different items, according to my instructions. Besides, they are cute!
Posterboard. I will take painters tape and make lines for grids, shapes, paths, and many other games. It is cheap board and won't take much abuse but I think it will work great for these purposes.
What are your best frugal finds for school?