Lessons I'm Learning from Bell's Palsy
Melissa
It was a Tuesday – nothing too exciting about it. I was standing at my groomer's, picking up my dog, and my eye started to feel…funny. As I drove home, my eye felt even more funny, and my cheek, and my ear, and my tongue… I had had Bell's Palsy two years before, and I knew what it felt like. Still, I called my husband and asked him to Google stroke symptoms; he told me to drop the dog off at home and head straight to the ER. They took me back quickly, and after a CT scan, an EKG and lots of blood work, they ruled out a stroke, diagnosed Bell's Palsy and sent me home with eye ointment and tape to keep my eye shut.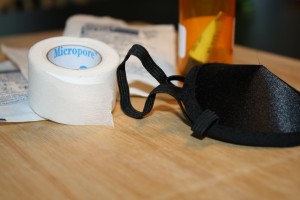 Through the next few weeks, I tried to recognize what God might be teaching me through this experience, and here are the lessons I think he wants me to learn.
1. True beauty comes from within. Because only half your face works – smiles, laughs, responds, I felt like a walking freak-show, and the temptation is to hole up until it is all over. I had to stop and remember that it is not my outward appearance that really matters. My value is not in my looks, which are fleeting, (regardless of Bell's Palsy) but in my character and how I'm willing to serve the Lord and glorify Him in my daily life. This has definitely been the hardest lesson.
"Your beauty should not come from outward adornment…Instead, it should be that of your inner self, the unfading beauty of a gentle and quiet spirit, which is of great worth in God's sight." I Peter 3:3-4
2. Patience. God heals in His time – not mine. I needed to wait on Him and appreciate the lessons. I also needed to have patience with every-day tasks. Drinking always requires a straw, because you can't form your mouth around a cup. Tooth brushing requires extra care, because you can't hold the liquid in your mouth. Eating is tricky – your mouth doesn't open normally, so you can't get food in nicely, instead smear it across your face. And then you're supposed to chew it. Do you know how much you rearrange food in your mouth when you eat? You find out when suddenly half your mouth stops working. I lost 6 pounds in a week, because I'd look at food and think, "That looks yummy! Never mind, it's too hard to chew it."
"Wait for the Lord; Be strong, and let your heart take courage; Yes, wait for the Lord." Psalms 27:14
3. Trust. Trust in God's timing. Trust that God knows what's best for me. Trust that He works all things together for good, and that He will use this experience in my life to refine me and to encourage others.
"And we know that in all things God works for the good of those who love him." Romans 8:28
4. God knows our needs before we do. The evening I got home from the hospital, I was expecting friends from out of town. Friends -not company. They heard what was going on while they were driving and came even faster – arrived with hugs, helped me make dinner, entertained the kids and then kept me distracted through the evening and the next morning as my face continued to freeze. God knew I would need them that day and had planned in advance for them to come.
"Your Father knows what you need before you ask him." Matthew 6b
5. God comforts. Later that week, I was completely overwhelmed – by the physical changes, by being uncomfortable going out, by the accompanying headache behind my ear, by not being able to shut my eye and having to hold or tape it closed – and I texted my husband, who was two hours away that week on business. He heard my aching heart and drove home for the evening. Not because he could do anything. Just to be there. To support me. To love me. God used him to comfort me.
"But God, who comforts the downcast, comforted us by the coming of Titus." (In my case, Jim.) 2 Corinthians 7:6
And now, three weeks later, it is almost gone. I am thankful it was short-lived – some people struggle with Bell's Palsy for months, or forever. I still worry that I won't get it all back completely, that my smile will always be crooked, that my face will always be a little bit uneven. But I trust. And I give thanks for the lessons God is teaching me.