Two Vital Viewing Tools: For the Student
Suzanne Broadhurst
"What do you see?"  What we see and what our children see are two different things.  🙂
Glance at the same room and here's what most children won't see:  scattered toys, clean clothes on the bookcase, dirty clothes tangled in bedding, and last month's art project mildewing in the corner.  They will see their quarter-completed block creation, a tent, a swarm of snakes waiting for their sister to sit on their bed, and sweet memories of time with Mom and a glue bottle.
Eyes must be trained to see beyond what is important to the viewer, so our children need an occasional pair of mama's eyes to help them see what they naturally block out.
As home educators, we want our children to not only see what they see, and see what we see, but we'd love for them to see what can't be seen without a little help from a friendly lens or two.
The Magnifying Glass
The first vital viewing tool is a magnifying glass, a lens which can turn an ordinary leaf into an artistic image of fractals and, if one is lucky, a landing pad for teensy crawling critters.
Here are some other objects that are marvelous to view when the miniscule is magnified:
dirt
bugs
carpets – before and after vacuuming
food
mold and mildew (a good use for that art project, science experiment or last month's leftovers!)
leaves
flowers
curtains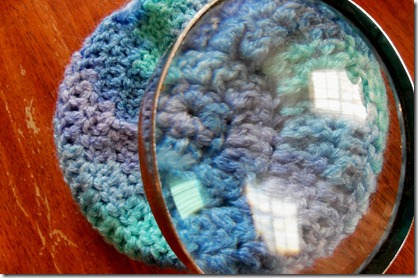 something crocheted or knitted
a block of wood
skin – with and without makeup
Safety Tip: Be careful using a magnifying glass (especially in the sunshine) around anything flammable.
The Binoculars
My children – now older teens – have known for years the power and preciousness of the family binoculars.  They were my daddy's.  When he gave them to me it was with a heart of great foresight, hoping they would be used carefully for generations to come.  I still remind my children (and my husband) to be sure they put the strap around their necks so they don't get dropped in the excitement of seeing the unexpected.   A snake dangling from a treetop comes to mind!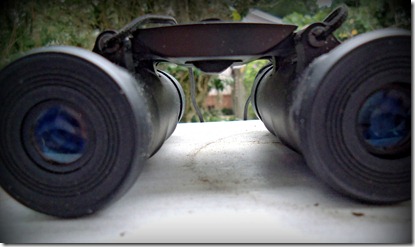 So, what can we do with a pair of 'noc's?  Here's a starter list:
stars and planets
birds on a telephone wire
aircraft
mountain views – from the mountainside and toward the mountainside
from a bridge (even over a small stream)
across a lake
tree tops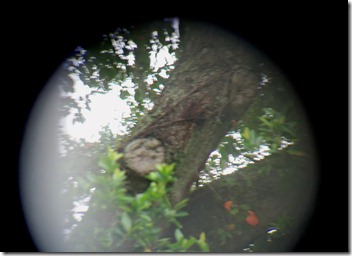 Nature Journal
Encourage your children to draw pictures (or take photos through the lens) of their discoveries through both magnifying glass and binoculars, providing an opportunity to focus on the natural designs of the Creator.
Have older students look up the science behind different kinds of lenses.  Can you use a magnifying glass to see something far away?  Or binoculars to look at the palm of your hand?  Why or why not?
Whatever you do, enjoy the view!

Photo credits, with thanks, to Winter Broadhurst.