Hands-on Mummies with The Mystery of History
Heather Cook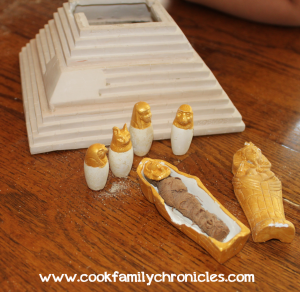 During our studies in The Mystery of History, Volume 1, we greatly enjoyed the lesson about early Egypt and the hands-on activities I planned.
Mummy Lunch
First, for lunch we made mummy pigs in a blanket. It was super easy and the kids loved it! Though they were fun to make, they didn't exactly look like mummies when they came out of the oven.
I used the crescent dough rounds that are in the refrigerated section of the store. I just unrolled the dough pieces and then wrapped them around the hot dog. The kids thought they tasted great, but we were disappointed in how they looked.
Mummy Models
Then we enjoyed this pyramid kit which fit perfectly with our MOH lesson on early Egypt. First the children had to figure out how to open the pyramid using the cute little tools included in the kit.
The goal is to find the mummy and the four canopic jars that are buried with it. I thought it would be loose sand inside, but it is brick-hard sand that you have to chip and chisel your way through. For forty-five minutes, my children had a great time playing archaeologist.
Here are my children excavating the pyramid model and wearing the cute goggles that come in the kit.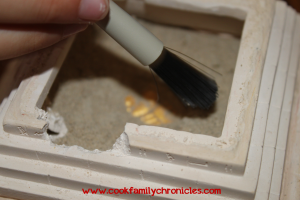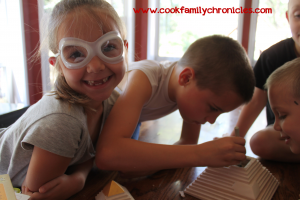 I  love The Mystery of History.