Homeschool Children Can Minister with Operation Christmas Child
Melissa
When we hit this time of the school year, when the air is overly crisp, when the schoolbooks are no longer new, and when the griping has begun, we need to be reminded of the blessings of homeschooling. One of those blessings is the flexibility to spontaneously participate in life-changing ministry.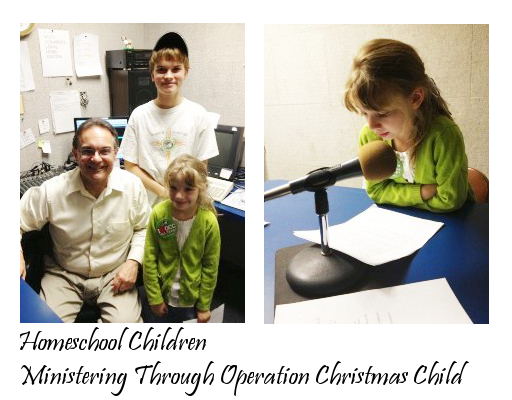 I received a late morning phone call from a friend who is the Relay Center Coordinator for Operation Christmas Child in our county.
"Melissa? A while back I told Dale Gaertner at radio station WLEN that I would write some PSAs (Public Service Announcements) and do an interview.  It kind of snuck up on me, and I'm headed over there today at 3:00. Would your daughter Bethany be interested in helping us do a PSA?"
Bethany? On the radio? What a fantastic opportunity! Of course she would!
When my friend arrived, we put the schoolwork aside, and my seven-year old and I sat down to rehearse the PSAs. They were 60-second and 30-second dialogues between Bethany and Joel, and it was important they not run long.
Bethany was to begin one script singing, "I'm dreaming of a shoe box Christmas." I was nervous; it became clear that she had never heard that Christmas song. So I worked to teach her the tune which she finally nailed at almost three o'clock. We jumped in the car and headed to the radio station where we met Jamie and Joel. Jamie did an interview first, so Joel and Bethany had time to practice the scripts together.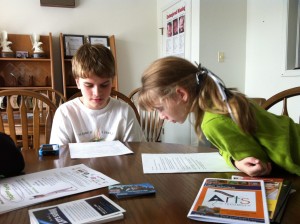 After working for about fifteen minutes, it was time to head into the recording studio. The space was small with equipment everywhere. Bethany and Joel sat in front of the microphone and were given instructions to speak clearly and not to wiggle. This is tricky for a nervous seven year old.
They started with the 60 second spot, and she nailed the song. Score!
Joel, at age 13, read like a champ. I wondered how the radio station would handle the couple of odd breaths Bethany added. After re-recording a section, Dale had what he needed. There were a few verbal flaws, but through the magic of modern recording devices, Dale lifted out Bethany's extra breath. As Jamie said, he literally took my daughter's breath away!
Once again, I was reminded of the many extra benefits we have when we homeschool. Because our day-time schedule was free, we were able to respond to Jamie's call, work on the PSAs, and show up at the radio station. Because he homeschools, Joel was able to both write and record the PSAs. Best of all, we were able to support Operation Christmas Child, an outstanding organization that helps needy children around the world by collecting shoe boxes full of gifts and delivering them at Christmas.
Many thanks to 107.9 WLEN and Dale Gaertner for providing the PSAs so you could hear them!

Operation Christmas Child PSA 1 2012
Operation Christmas Child PSA 2 2012
For more information on Operation Christmas Child, visit Samaritan's Purse and Build a Box online.