Five Places to Find a Teenage Bibliophile
Suzanne Broadhurst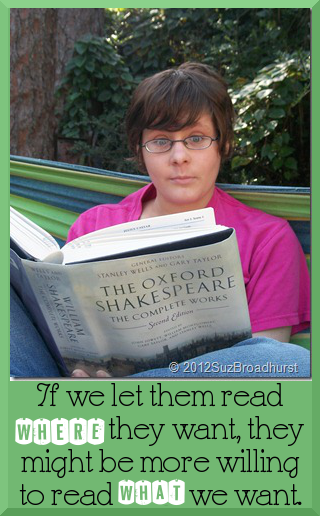 Where is that child? How many times over the years have I asked that question?  Far too many to count.
She's not in her room, not on the computer, not in the kitchen.  Where is that child? She's 17 now, and I'm still asking, "Where is my teen?"
The world at large expects to find a teen in these places.
at the mall
in a movie theater
on a computer
watching TV
asleep
But homeschooling parents tend to find our students – even teenagers — reading in some unusual places. Here are five spots where I often find my teenage bibliophile.
In the Recliner
 On the Front Porch
  On the Back Porch
In a Tree
In a Hammock
Moral of the Story
The moral of this photo story is if we let them read where they want, they might be more willing to read what we want.
Where do your children like to read?
Fluttering by, for now, on my way to a good book,

Twitter @SuzBroadhurst