10 Tips for a Stress Free Christmas
Maggie Hogan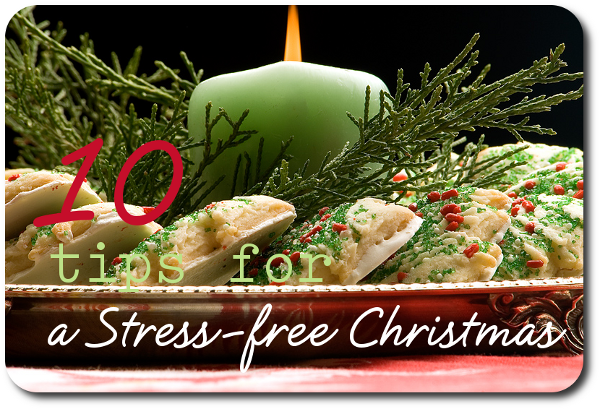 1. Prioritize
You can not possibly please everyone, so prioritize: God first, then spouse, then family. Others? Give it to prayer and seek wise counsel before making decisions.
2. Practice Saying No
Need words? Try these:
"No, I'm sorry, but that just is not possible for me this year."
"I'll check with my husband and let you know."
"Our calendar is pretty booked; I'll have to look at it first."
"Thank you! Sounds fun but but we are unable to participate."
3. Implement a Family Council
If your children are old enough to have strong opinions about Christmas activities, call a meeting and choose which traditions everyone most wants to do.
You might be surprised at the outcome. Perhaps you thought making gingerbread houses from scratch would top the list, but no one even brought it up. Cross that one off. Wrapping presents and watching Christmas movies makes everyone happy? Easy-peasy! Don't feel guilty because your gang prefers simple pleasure over complicated, time consuming activities. Feel blessed.
4. Budget Wisely
Decide as a family how best to use your budget. Individual gifts? One bigger family present? Donation to Compassion International or a local homeless shelter?
Once you have a budget it's far less stressful to stick to it than to overspend and deal with the consequences. Plus, when everyone knows the basic plan there is less likelihood of complaints.
5. Get a Head Start on Thank You Cards
Address and stamp thank you cards in advance. Then, beginning on December 26th, assign a reasonable number of cards to be written each day before new gifts can be enjoyed. You'll be pleasantly surprised how quickly these will get done!
6. Simplify Christmas Dinner
Christmas dinner can sometimes be a stressful meal. After a few years of driving hundreds of miles to spend a short and stressful Christmas Day at three different parents' houses, we changed our holiday traditions. We chose not to visit family at Christmas time and instead visit the grandparents at another time of year.
Now I don't even cook Christmas dinner. We prepare a big breakfast, and I have special items the family can snack on or a crock pot meal made the day before.
7. Rest
A lack of sleep makes everything more stressful. Trying to keep to a normal routine through the Advent season helps.
Not being an early bird myself, I made sure my sons would awaken on Christmas morning to find stockings on their beds. These were filled with quiet things they could play with plus a little snack. These gifts kept them happily occupied until a more reasonable time when they were allowed to wake us up.
8. Be Selective About Activities
Choose the absolutely most meaningful activities. Period. (See number 2 for help.)
9. Find Contentment in Jesus
Contentment can only be found in Jesus, not in man-made celebrations.
10. Rejoice in Jesus
The reason for the season is Jesus. (See number 9.) Trust me on this. The gifts and to-do lists will fade. The joy found on a simpler season of celebrating the birth of Jesus is what your children will remember.
What are your favorite stress-less Christmas tips? I'd love to hear them.