Thanksgiving Geography Lesson
stacey lane
This free printable from Bright Ideas Press combines history, geography, and vocabulary in a Thanksgiving lesson.
The printable map (linked below) was created with WonderMaps software. On the full color printable, students can not only trace the route of the Pilgrims from England to the New World but also study these six terms for bodies of water.
river
sound
sea
ocean
bay
harbor
Lesson Plan Ideas
1. Rivers
Plymouth, England lies between two rivers, the Tamar and the Plym. If you have studied The Mystery of History Volume 1, you can remind your children about a famous civilization that lay between two rivers. See Lesson 7 on the Sumerians which mentions Mesopotamia being between the Tigris and the Euphrates Rivers.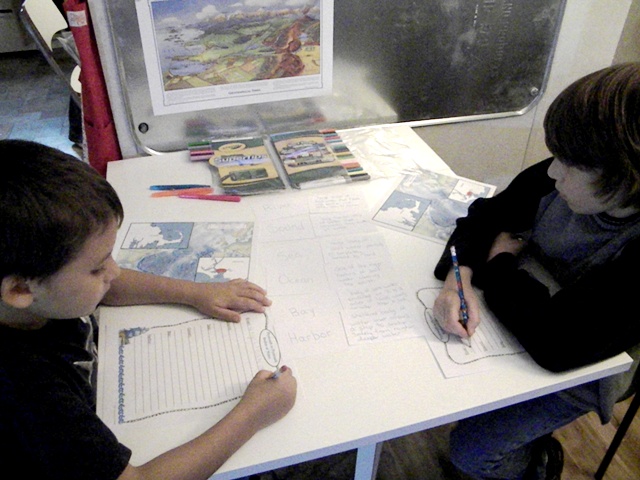 2. Sounds, Seas, Bays, Oceans, and Harbors
The two rivers in Plymouth, England flow into Plymouth Sound. The sound opens into the Celtic Sea. Take a moment to define the terms river, sound, and sea and identify them on the printable map.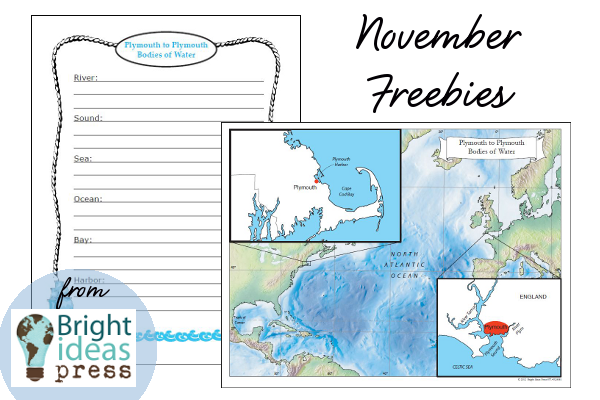 You can find reference to the Pilgrims' voyage across the Atlantic Ocean and their destination in Cape Cod Bay in these two volumes.
The Mystery of History Volume 3, Lesson 59 The Pilgrims Land at New Plymouth
All American History Volume 1, Lesson 10 The Massachusetts Colony
The terms sea and bay can be used interchangeably when describing a body of water surrounded partly by land although a bay is usually a bit smaller. With the rocky shoreline in Massachusetts, I am sure Plymouth Harbor was a welcome place for the Pilgrims to anchor their ship. Take a moment to finish defining ocean, bay and harbor and show them on the map. I had my boys highlight the different bodies of water on the map.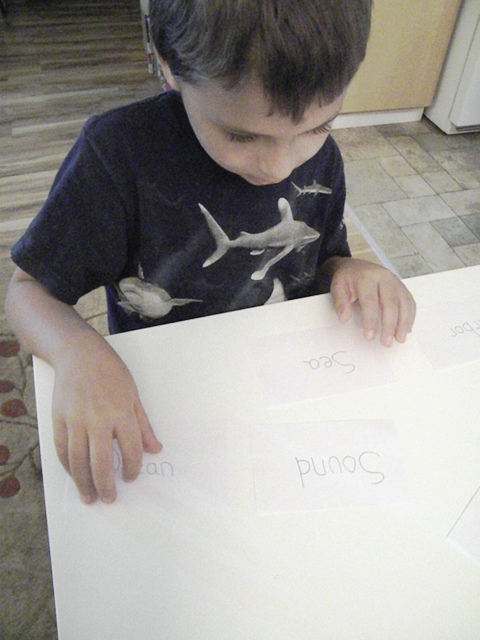 3. Review the Geography Terms
For some extra reinforcement of the geography terms, I wrote the term and definition on separate index cards for a matching game. I also had my boys order the terms from largest to smallest body of water and even in alphabetical order.
Printable Map — From Plymouth to Plymouth

Printable Notebooking page– Bodies of Water on the Pilgrims' Voyage
Please note that the Pilgrims did first sail to Holland, but this lesson focuses on the waters from Plymouth, England to Plymouth Massachusetts. If you have older students, they may want to research other bodies of water around Holland.