Bible Notebooking Activity for Christmas
stacey lane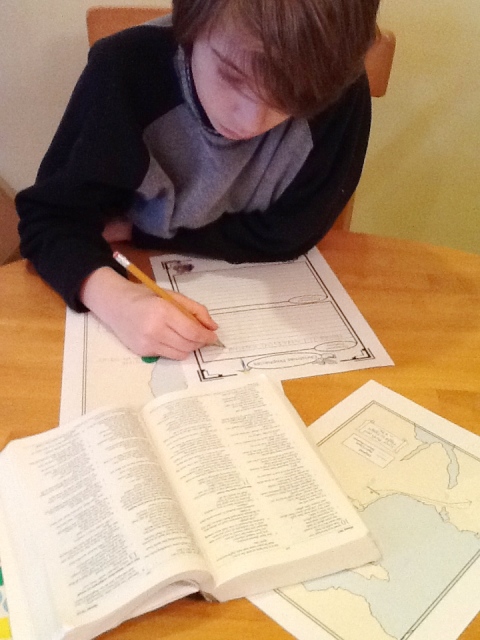 Did you get your December freebies? I used the mapping page and notebooking page with my sons and added some fun twists.
I quickly grabbed their attention when I announced we were going to build some tents in the living room. Once the construction of the tents was over and the boys were comfortably inside, I began reading the Christmas story from Matthew chapter 2.
When I finished reading chapter 2, I  announced that it was nighttime and we must flee to Egypt. We put on our coats and headed outside to pretend we were escaping. On our journey, we stopped to pick up some acorns and do some much needed running and jumping.
We returned to the kitchen table to fill in our maps and notebook pages. I found some transparent colored circles that worked nicely to mark Bethlehem and Nazareth. We marked Jesus' journey from Bethlehem to Egypt and then from Egypt back to Nazareth. Once the boys had that done, they thought it was great fun to use their acorns to march back and forth between the places.
I read Hosea 11:1 to them. This is the prophecy that foretells Jesus' escape to Egypt. Then we talked about how verses in the Old Testament often tell about things that would happen in the New Testament. They copied Hosea 11:1 (the prophecy) and Matthew 2:15 (the fulfillment) onto their notebook page.
To wrap it all up, I gave my sons a long list of Old Testament prophecies with New Testament fulfillment. They returned to their tents to look at the list and see just how fascinating and reliable the Bible truly is.
You can get these free pages right here at Bright Ideas Press blog.