Four Steps for a Daily Christmas Devotional
Melissa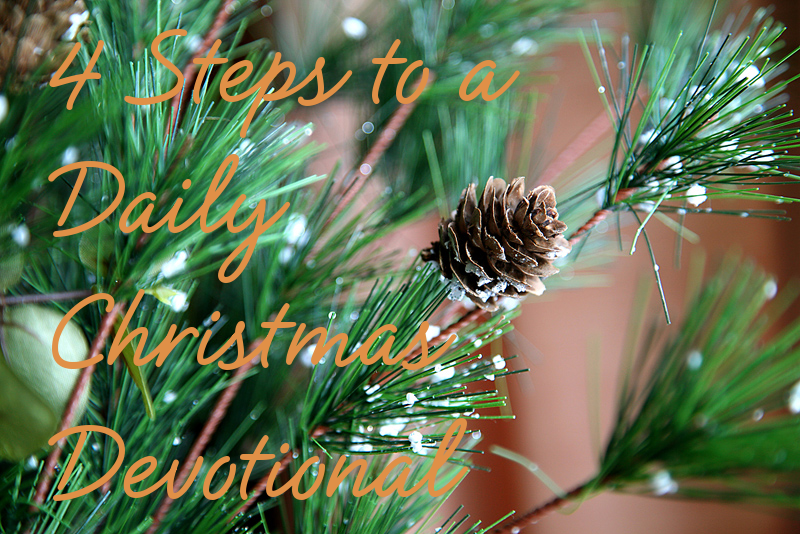 As we put up Christmas lights and wrap lovingly chosen gifts, we need to calm our hearts from the busyness and truly prepare to celebrate Christ's birth. Let's take time to remember the reason we are celebrating –the reason we give, decorate, and feast.
In our family, we like to stay grounded through the chaos with an advent devotional that specifically guides our hearts toward Christ's birth. Here are some suggestions for staying focused this season:
1. Choose a daily Christmas devotional.
The Jesse Tree, a free devotional e-book from Ann Voskamp and Nancy Rodden
Or perhaps you want to gather Christmas story books and read a different one each day.
2. Decide when you will read it.
Will you have Christmas devotionals in the evenings when Dad is home? In the mornings when you can be consistent? At lunchtime? Pick a time and try to stick with it.
3. Make an advent wreath.
This sounds complicated, but it can be very simple. My advent wreath isn't a wreath but some greens that I put in the middle of the table with five simple candle holders arranged in a rough circle — three violet, one pink, and the white Christ candle in the middle. Lighting the candles can be part of your daily Christmas devotional time.
When you light the candles, have a plan for extinguishing them. One year we forgot to blow out the candles and got involved in reading. An hour later, we walked back into the living room to see flames a foot high melting the synthetic greens to the top of our bookcase.
4. Give yourself grace.
If you miss a day here and there, don't be discouraged and don't give up. Life happens. Just like any routine,  a Christmas devotional will not happen the way you wish it would. Despite skipped days, realize that whatever time you spend together in quiet preparation for welcoming Christ is time well spent.
So make a plan. Quiet your hearts. And prepare for the Christ child.
What special ways do you prepare your family for Christmas? Feel free to leave a comment below.