Homeschooling During the Unexpected: Think in Threes
Suzanne Broadhurst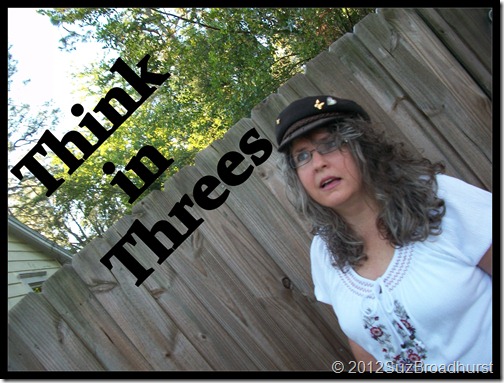 This post is inspired by a recent medical emergency recently when my daughter had a scary episode of anaphylaxis at the mall after trying on clothes.
When I got the call that evening, I grabbed my purse, my sweater, and my totebag as I headed out the door. I asked my son to post on Caring Bridge, called my pastor for a ride, and cancelled all non-essential obligations. Because I've encountered these kinds of emergencies before, I have learned some strategies for coping that come in threes.
Handling an Emergency:  Think in Threes
In a real emergency, it can be terribly difficult to think about everything you should. That's why having an emergency plan in place is step one.  Step two is to think in threes when trouble comes to visit.
In an Emergency, Take Three
If you have to leave the house immediately, you may feel compelled to take everything, leaving you spinning in the middle of the living room trying to decide.
I've learned over the years there are basically three things I need to take.
Purse (with wallet)
Sweater (It's always colder where stress awaits.)
Something to do (one per person)
Having something to do calms your nervous hands and offers something to focus on besides the distress you are in. a fantastic read.
In an Emergency, Contact Three
After you have contacted any official emergency staff such as 911, fire department, or the doctor, immediately call or bring contact information for three people:
A communicator who can keep others up-to-date
A local friend or family member who can be called day or night for help
A friend who can provide emotional support (You know the kind – the one who lets you melt into a puddle of pudding while the emergency is in progress and loves you when it is over.)
In an Emergency, Cancel or Delegate Three
Run through your schedule – either by memory or by planner page – to see what must be canceled and what can be delegated.  You may want to delegate the delegating to your information communicator.
After the Emergency, Remember Three
When homeschool fears hit your heart, "But I have to teach math today!  We had a science experiment planned!  My daughter has an essay due!" or the terror-inducing, "The SAT is tomorrow!" take a deep breath and remember these three homeschooling truths:
Homeschooling provides flexibility.  (An emergency is one of those times to be flexible.)
Homeschooling is about life as much as it is about education.
The ABCs and 123s will be there tomorrow.
For this month, yes, we're behind on homeschool lessons, but we are all still here for life.  And for this month, that's educational enough.
If you tend to have recurring emergencies, having a list of your threes readily available will help you keep calm and carry on.