Amelia Earhart's Famous Flights: A Sample Lesson Plan
stacey lane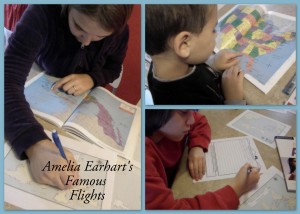 My mind runs in a thousand directions when given a topic for homeschool, but this time I wanted to practice doing a simple activity with my kids. Key words: practice and simple.
Instead of gathering every library book, movie, and web site out there on Amelia Earhart famous flights, I opted for just three items:
I gave each child an atlas and placed the blank maps in the center of the table, keeping the answer key maps as my reference. In an i-spy fashion, we looked at each map and tried to guess which city and country the dots represented. With each guess, I would offer a little hot or cold response. When they guessed the right answer, I had them copy it onto their maps.
Looking at the two maps of Earhart's transatlantic and transpacific flights, I had each child guess which flight took the longest. I loved that my daughter was able to reason that since the Pacific Ocean is a much larger ocean. the transpacific flight took the longest.
My kids were amazed at how far Earhart had traveled on her last flight. They wondered why some stops were so close and others so far away. I then asked them to write on their notebook page any topics they would like to learn about Amelia Earhart. For fun, I asked them what places on her flights that they would they like to visit.
We viewed a National Geographic movie about Amelia Earhart. My kids were amazed at how many theories exist to explain Earhart's disappearance. After the movie, I had them finish their notebook page by filling in the theory they thought was most correct.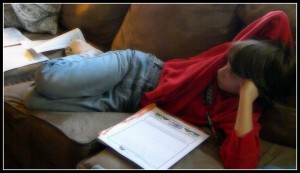 From the look of my son, I think I got a bonus of relaxed learning in my "practicing simple" activity.