Finding Joy While Homeschooling
Melissa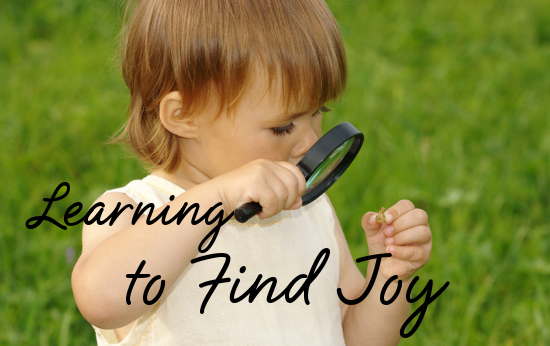 It's true. As a homeschooler, sometimes when I'm home with the children all day, I lose track of joy.
I am overwhelmed with what needs to get done.
The laundry (They keep wearing clothes! Every day!)
The math (Sometimes teaching three different levels is overwhelming!)
The meals (Those children want to eat every day. Sometimes it seems like a miracle that I figured out dinner last night. And today is a new day. I'm supposed to feed them again?)
The griping and bickering (I didn't realize I needed to take training in how to be a referee before I gave birth.)
But two years ago, my dear friend, Maggie, gave me Ann Voskamp's book, One Thousand Gifts which  transformed my life. In her book, Voskamp explores the idea of eucharisteo, that giving thanks to God for all things is a form of worship which draws us closer to God. We recognize God's hand in our lives when we see that even the small things are gifts from Him. She says:
Gratitude for the seemingly insignificant – a seed – this plants the giant miracle. The miracle of eucharisteo, like the Last Supper, is in the eating of crumbs, the swallowing down one mouthful. Do not disdain the small. The whole of the life – even the hard – is made up of the minute parts, and if I miss the infinitesimals, I miss the whole…There is a way to live the big of giving thanks in all things. It is this: to give thanks in this one small thing. The moments will add up.
Voskamp reminds us that hurry is painful. "Hurry makes us hurt…hurry empties a soul." And I see how true that is in my life. How I hurry. How I rush. How I hurt. And I read her reminder:
The clock ticks slow. I hear it for what it is: good and holy. Time, what God first deemed holy above all else (Genesis 2:3) Thank God for the time, and very God enters that time, presence hallowing it. True, this, full attention slows time and I live the full of the moment, right to outer edges. But there's more. I awake to I AM here. When I'm present, I meet I AM, the very presence of a present God. In His embrace, time loses all sense of speed and stress and space and stands so still and … holy.
And Voskamp challenges us. Challenges us to be fully here and to find 1000 gifts – actually make a list.
I have kept this list. And it's true. I live more thankfully, more fully, more joyfully, when I recognize God's hand in my life even in the small things, even in the mundane.
In the past I have kept the list in a notebook, on the Notes app on my phone, and on the 1000 gifts app, which allows me to take pictures of my gifts. Unfortunately, my phone crashed in the midst of last year's list, and I got frustrated. But a new year has begun. And a new list is beginning.
To reach a thousand gifts this year, I must find approximately three a day. This year, I will do it. This year, I will choose joy. Here are my first three gifts:
My husband, who patiently allows our youngest to do his hair.
Coffee with frothed milk.
Light from the setting sun, caught in my window.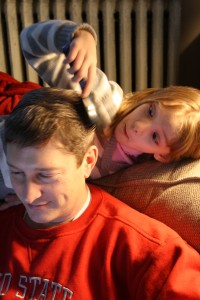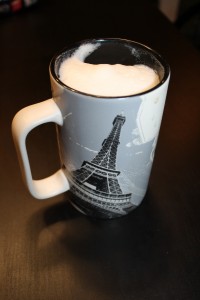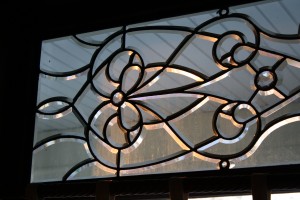 Will you join me? Learn how to worship fully in every moment, choosing joy.