Heart-Themed Lesson Ideas
Laurie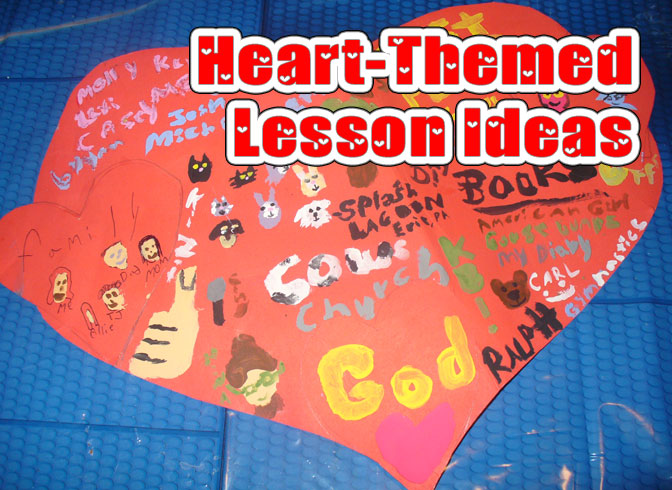 With Valentine's Day right around the corner, many homeschool families will want to find a way to integrate the holiday into their lesson plans. Here are some simple heart-related activities that can be adjusted to fit various age levels. Your children will have fun learning about science, P.E., art, Bible, math, history, and language arts – all with a focus on the heart.
Heart-themed ideas for Science
Teach your children the anatomy of the heart. Print out a diagram of the heart and have your children trace the path that blood takes through the chambers. (For more ideas, look to Pinterest.)
Heart-themed ideas for Physical Education.
Have the kids measure and record their resting heart rates. Then have them get up and exercise by doing  jumping jacks, jogging in place, or some other cardio exercise. Next have them take their pulse again. Discuss the reason for the change.
Heart-themed ideas for Art
Have your child draw a life-like heart. Scan it into the computer and use printable iron-on transfers to make a custom print that you can iron onto a white t-shirt. You can do this with all of the body systems for a unique "Inside Me" shirt.
Heart-themed ideas for Bible
Read Romans 5:5, "And this hope will not lead to disappointment. For we know how dearly God loves us, because he has given us the Holy Spirit to fill our hearts with his love." Discuss how God fills our hearts with his love. Ask the children what else is in our hearts. The children can draw, write, or glue pictures of all that they hold dear to their hearts on a poster board heart.
Heart-themed ideas for Math
Measure 5 liters (1.3 gallons) of water into a bucket. This is how much blood the heart pumps through an adult body each day. Pour out 2.4 ounces. That's one heartbeat. Determine how many times the heart beats each day by counting how many times you can pour out 2.4 ounces of water from the bucket.
Heart-themed ideas for History
Study the history of greeting cards or chocolate or anything else related to Valentine's Day. Make a timeline showing the progression of holiday traditions. It's fun to affix butcher paper to a wall and let the kids paint images to represent the various stages of the celebration.
Heart-themed ideas for Language Arts
If your children are old enough, have them create an original Valentine's Day card that they can submit to a greeting card company. It can include an original poem, a Bible verse, or a funny saying. Most companies will reply to inquiries by children, so keep an eye on your mailbox for a personal reply.