Homeschooling the Gifted Child Part 2
Maggie Hogan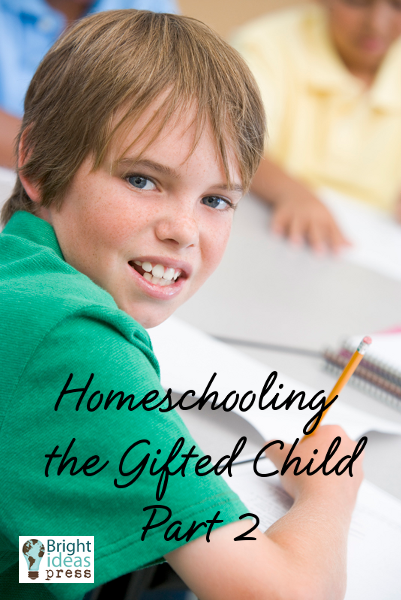 In Part 1 of Homeschooling the Gifted Child, I discussed the characteristics of gifted children. Today I will share insight into how to guide your gifted child through his home education.
Society's Attitudes Towards Giftedness
It appears to be more acceptable in our society to be athletically gifted, musically gifted, artistically gifted, or even socially gifted (IE leadership), than it is to be academically gifted. Parents need to search out the best in education, resources, and opportunities for their gifted learners just as they would for their athletes and musicians. Use tact when discussing accomplishments, but don't ignore them either.
All Gifted Students are Not the Same
Use what you know about your child in order to guide and motivate him. Some students need to be prodded into working to their capabilities, while others are perfectionists and need help learning to lighten up.
There is More to Life Than Academics
Don't neglect important things like spiritual development, character, service to others, fine arts, etc. Social skills should not be overlooked either. Does your child know how to behave in various situations? Are they comfortable with both peers and adults?
Mentoring
Look to parents with gifted children who are older than yours. Pick their brains, find out what worked and what didn't.  Then be a mentor to a family with younger gifted kids.
Don't assume others can teach your child better than you can. Gifted programs, classes, and schools may look enticing, but look very closely! There is much New Age teaching and other garbage being used as "gifted programs." You know your student better than anyone else. With prayer and reliance on the Lord you can teach your gifted children at home.
More than Text Books
Academics are important, but academics means more than textbooks. Use resources and activities that incorporate higher level thinking skills.
Make books and keep notebooks.  Give them a place to write those important thoughts. Make a field guide using a camera, plant samples, and reference books.
Design homemade games.  Assign them the task of making board or card games based on their studies. This is a great way both to learn and to show what you've learned.
Create! Stage a play, write a newspaper, invent a tool, or start a business.
Use brainstorming in everyday life. Help them to organize their thoughts and ideas.
Provide them with plenty of opportunities to learn without making it obvious that it's "educational." Possibilities include conversations with adults, interesting hobbies, good magazines and other reading material both fiction and non-fiction, exposure to other languages and cultures, and free time to pursue their dreams and goals.
Nationally Recognized Gifted Programs
John Hopkins Center for Talented Youth
Johns Hopkins University has widely recognized programs for gifted youth grades 2 and up. The program consists of testing to determine eligibility (it is intended for high-end gifted), camps, workshops, symposiums, newsletters, tutorials by mail, and on-line classes, all created for very gifted kids and/or their parents.
Duke University's Talent Identification Program
Duke has a similar program called TIP (Talent Identification Program) which includes a 7th grade talent search. Duke also publishes a periodical entitled Digest of Gifted Research.
Other colleges and universities in your area may have testing programs as well as on-line and correspondence courses as well as camps. Investigate carefully, know your child's needs and personality, and pray before pursuing.
Contests and Competitions
There are numerous contests available. The hard part is picking the one(s) for which you have time! There are well-known ones like the National Geography Bee, Scripps National Spelling Bee and Mathematical Olympiad. However, there are a number of other contests that might be great fun and quite a learning opportunity for your student such as the Invent America! contest.
Resources
Along with two other homeschool moms, I have written a guide for homeschool parents who are raising gifted sons and daughters. Gifted Children at Home: A Practical Guide for Homeschooling Families can be purchased in the Bright Ideas Press store. See the table of contents and sample pages here (PDF).