Six Ways to Teach Children Goal Setting
Suzanne Broadhurst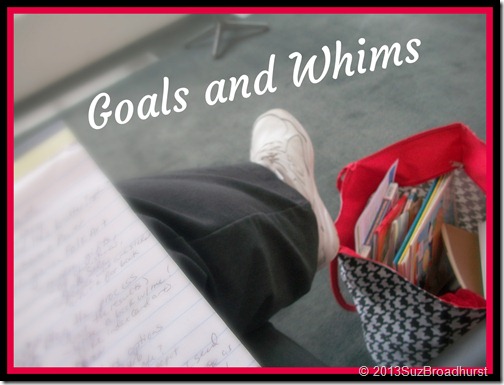 After two decades of parenting, I still find goals crossing swords with whims: mine, theirs, and ours.
Although one of my goals is to be whimsical, life can't be all whimsy, especially as adults.  And isn't that what we are training our children to be?
Training Our Children to be Goal-oriented Adults
1.  Be an example.
Set goals. Write goals. Work toward goals. Celebrate victories!
2. Talk about goals.
Share your own dreams with your children and talk about how you plan on reaching them.
3. Let them help you.
Allow your children to help you reach your goals. If they can do even a little part, let them enjoy the journey and join in the celebration when you reach the goal.
4. Ask for space to reach your goals.
Maybe you need an hour of quiet in the afternoon to complete a project. Share how important it is to and most importantly, why it is important to you.
5. Give your children space to reach their goals.
Their goals may not look like your goals for them or like your friends' goals for their children. But giving our children space to be who they are will help them find joy early in life. Growing squash in the backyard may not be your idea of a dream come true, but if it's on the heart of your child, what's the risk in giving them a package of seeds and a small plot of land?
6. Ask how you can help them reach their goals.
Don't be offended if they don't want your help. They need to know you are available, but they might want to do something by themselves. That's the kind of maturation progress we hope for, but we don't always relish when it arrives.
Set some personal goals, share them with your children, give them space and enjoy the journey!
I'd love to hear how you encourage goal setting for your children. Leave a comment below.