Measuring the Volume of Oddly Shaped Solids
Lisa B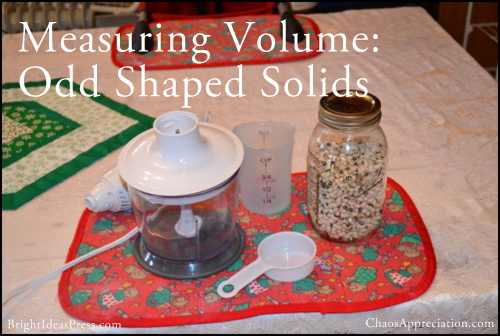 While the holidays are upon us, we have mostly taken a break from schoolwork. But since science is a well-loved subject because of the experiments and demonstrations, keeping those lessons going has been pretty easy. Christian Kids Explore Physics is full of quick lessons and easy-to-do demos that help drive home new science concepts.
We are still working with states of matter, and we  recently learned how to measure volume.
If all solids were perfectly square and easily measured, then calculating the volume with (height x width x length) would be easy. But what do you do when you have lumpy solids such as rocks, beans, or a human body?
Water displacement is one way to easily measure the volume of a solid. In our homeschool, we used beans to demonstrate why other methods give inaccurate results.
Supplies Needed:
Measuring cup (for liquids)
Measuring cup (for dry ingredients)
Beans
Chopper/ food processor
Water
Strainer
Demonstration
We started by scooping up 1/3 cup of whole black-eyed peas into a measuring cup. The cup looked full. We discussed how we were unintentionally measuring the volume of the air around the beans. We filled a measuring cup with 2/3 cup of water then calculated that 2/3 cup of water plus 1/3 cup of beans should equal 1 full cup.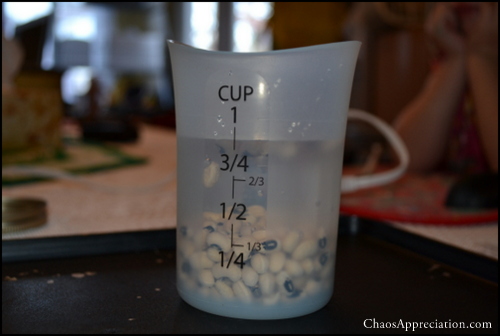 We didn't come close to a full cup. So we decided to try chopping another 1/3 cup of beans to reduce the space around them.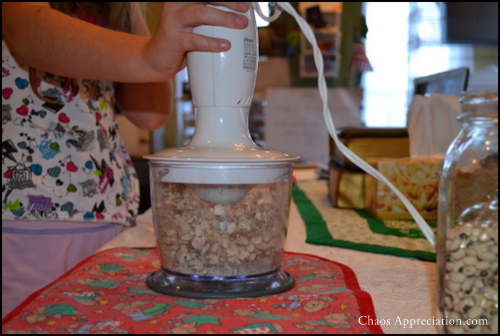 The process was really noisy, and the beans didn't really chop up very well. However, we did notice that when we put the chopped bean pieces back in our scoop, the volume was just a little under the rim. Thus we knew that the chopped beans were taking up less space. (A good scientist would make note of the bean dust left in the chopper.)
Then we dumped the chopped beans into our measuring cup and again added 2/3 cup of water.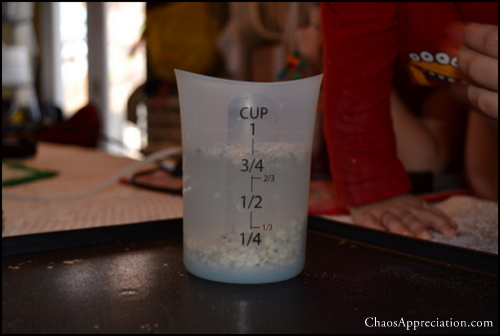 We still didn't get a full cup. How could we get a real 1/3 cup of bean volume? The answer was with water displacement.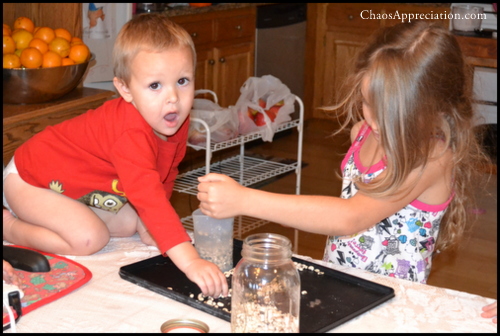 Start with a measuring cup filled with 2/3 cup of water. Then add beans until the water line reaches 1 cup. You have now displaced the water with 1/3 cup of solid matter.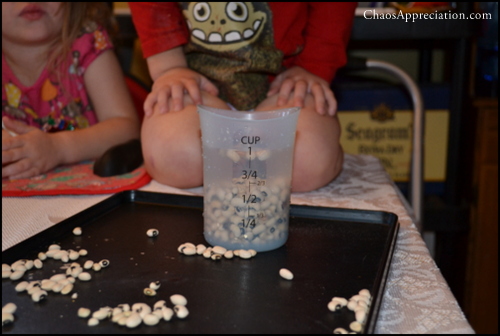 Use the strainer to drain off the water. When we scooped up the beans with our 1/3 cup scoop we had more beans than we could fit in one scoop!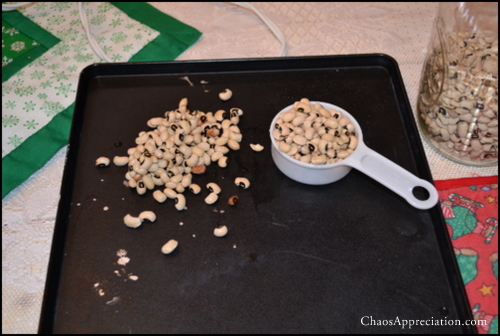 After this demonstration, I was informed I needed a "great-big-ginormous measuring cup" so we could measure the volume of their baby brother!
Have you done any fun science activities from Christian Kids Explore Science? We would love to see them! Upload your images to our Facebook page for the Bringing Bright Ideas Home feature.