Repetition Parenting: Saying the Same Things Over and Over Again
Suzanne Broadhurst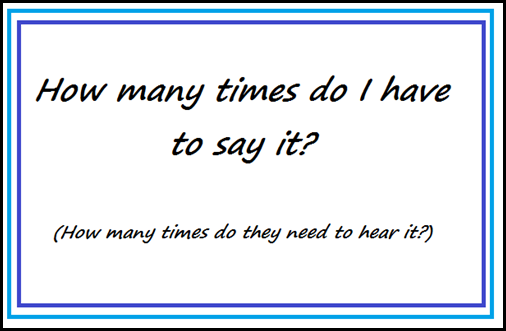 Do you find yourself repeating the same set of instructions to your children?  Do you long for a tape recorder with these repetitive messages on speed dial?
Clean your room.
Use a napkin.
Brush your teeth.
Every sentence begins with a capital letter.
A noun is a person, place, or thing.
Dissections must take place in the dining room.
Oooh, that's interesting!  Put it on the timeline!
Yes, you do have to do your homework.
No, you cannot pull your sister's hair.
How many times must a parent repeat an instruction before children catch the pattern and make it a lifestyle?
Turning the Tables
To answer the question, let's turn the dining room tables a bit.
How many glasses of water should an adult drink each day?  Most of us will say eight, right?  But how many of us do it?
(For statistical and point-of-the-post purposes, those who do drink their full eight need not respond,but are well-thought of and to be congratulated.)
It's not that we aren't listening.

It's that we have something better,easier, yummier, or more fun in mind.
It's Just a Test
A child's need for repetition isn't (always) an act of rebellion or a misunderstanding of our request.   Many times, children are just testing the authoritarian parental system.  They are looking for the weak spot in the parenting chain.
As hard as it is to swallow when we are in the midst of parental chain busting attempts, their demand for repetition can be an opportunity for parental growth.
We are challenged with the question:  Do we really mean what we are saying?

Sometimes we repeat the same instruction beyond our own belief in it just because we are the parent and we can.  But maybe – just maybe – our children have a point and we can learn from their obstinance. 

Internal Jukebox
Kids only pretend they don't know what line we are going to use when we walk into their completely disheveled rooms.  They have the oldie but goodie "Clean Your Room" playing on their internal jukebox, but they bat their eyes anyway and ask, "Yes, Mommy?  Do you need something, Mommy?"
"It looks like you need something, Child-Dear.  You need to …"
The child secretly mouths our next phrase, intrinsically knowing better than actually moving their lips in sync:  "Clean your room."
Your Voice Needed
It's not that they need to hear the words; it's that they need to hear the words from your lips.  They need to know that you are serious about a clean room and capital letters and dissection house rules. Again.  And again.  And again.
If we don't repeat our instructions, whose voices will they hear when they grow up and vacuum their own floors?  Surely, they won't hear the mailman saying, "Move the sofa and don't miss the corners, my love."  Well, that is, unless their mother is a mailman.
What will your children hear in their heads when they are far from the source of your wise words?
One day, I hope "Label your answers to all word problems" is drowned out by my long-gone whisper, "I love you."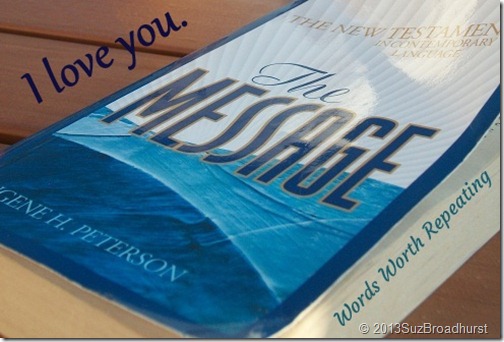 Now, those are words worth repeating.
And on that note, feel free to leave a comment.