The Sign of the Beaver Literature Guide From Illuminations Year Four
Katey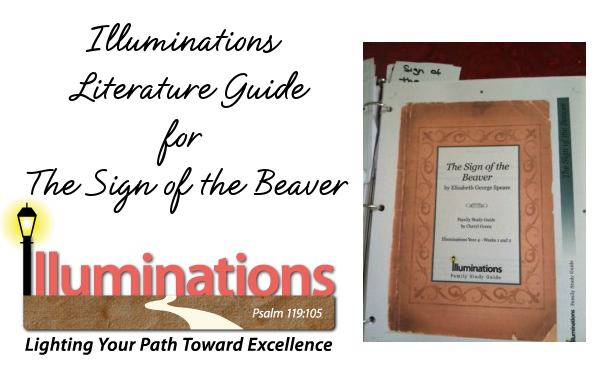 This school year we have been using Illuminations Literature Guides. I love these guides because the thinking and planning are done for you. You only have to implement the plans. Now that I am in our sixth year of homeschooling, I can tell you that this kind of user-friendly curriculum is the kind of resource that keeps me plugging along.
You can find the books we are reading at the Illuminations Year Four Literature/Readers List.
At first glance, I thought the reading lists seemed short. I assure you they are not. We get so involved in the stories and the guides that each book is taking at least two weeks with all the questions and hands-on activities.
Illuminations literature plans include two types of guides– Family Study Guides and Read Alone Guides. The Family Study Guides are the books you read aloud or listen to in audio book format. The Read Alone Guides are for your child to do on his own, something like a very in-depth book report. I like these Read Alone Guides because they demonstrate if my son has retained what he read.
We listened to The Sign of the Beaver by Elizabeth George Speare and then watched the movie. Of course the book was better, but the whole family enjoyed the movie too.
The Sign of the Beaver tells the story of a 13-year-old boy, Matthew Hallowell, and his father, who, as early settlers, together build a wooden cabin in Maine in 1768. However, Matt's father must head back to Quincy, Massachusetts, to get Matt's mother, sister, and newborn baby, who were all left behind so Matt and his father could build shelter, plant crops and stock supplies. Matt's father promises to return in seven weeks. Before Matt's father leaves, he gives him his watch to tell time and a hunting rifle to guard the crops and the newly built cabin. Unfortunately, Matt finds himself enduring many hardships for which he is unprepared. His hunting rifle is stolen by a stranger named Ben, his crops are eaten by the wildlife, and his food supplies are pillaged by a bear.
One of my favorite things about the Literature Guides are the suggested hands-on activities. A few of the suggested activities for The Sign of the Beaver are
Baking johnny cakes
Making a snare
Learning archery
Tracking animals
Making a corn-husk doll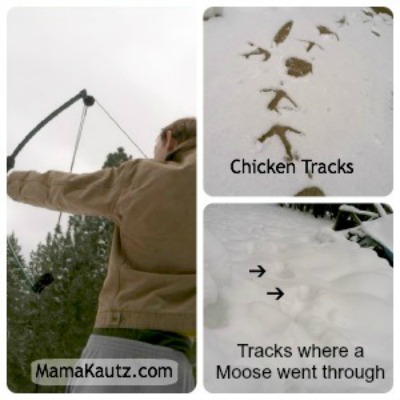 Because of where we live and because I have a thirteen year old son, I chose archery and animal tracking which were two things the hero of the story did for survival in the novel.
On Christmas Day we had a visitor.  The visiting moose went to the neighbors' property and walked through deep snow. Talk about great timing for animal tracking!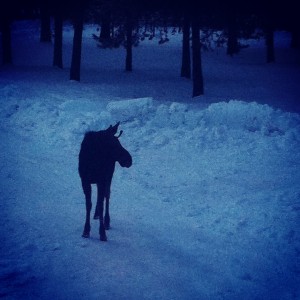 My thirteen year old son really got into nature and the idea of how Matt had to survive in The Sign of the Beaver. 
We are really enjoying the Illuminations by Bright Ideas Press. I only wish I had found them when my older two were in high school.