The Basics of History Timelines
Melissa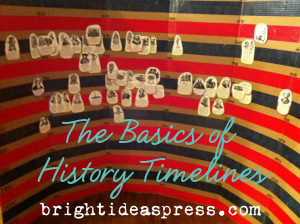 As a homeschooler, I feel that timelines are an important part of learning. In my ideal world, I have the timeline put together a couple of weeks before school starts, and we add to it once a week, reviewing everything we've learned that week. Unfortunately, this is the same world in which bacon flies into my kitchen, fully cooked.
I need to offer myself grace in all areas of homeschooling, including the timeline. If I get a timeline done before the end of the school year, that is success! Here are some basics of history timelines to help you get started using these practical educational tools.
Types of History Timelines
There are many different ways to do timelines, and at one time or another, we've done them all.
1. Wall Timelines
Some people like to keep timelines on the wall. My friend Julia kept hers on the wall along the stairway. Her kids are older now, but it was there for at least eight years. She loved that each trip up and down the stairs was an opportunity to review the figures – either consciously or subconsciously. She says the more unusual the shape, the more it was noticed. They created their own distinctive figures such as Benjamin Franklin and his famous kite. The children wrote Franklin's accomplishments along the ties of the kite's tail.
2. Notebook Timelines
I have created notebook timelines by printing out a template on which each page represents either 25 years or 50 years. Each student keeps his own notebook. This is a nice method for older students and co-ops. Here's a picture from my daughter's 8th grade timeline.
 3. Sewing Board Timelines
My favorite timeline is the sewing board one that Linda Hobar uses for The Mystery of History.
I prefer to modify it. Instead of making it vertical and hanging it, I make our timeline horizontal so that it can be freestanding. I adjust the number of lines and how many years we need per line depending on what era we are studying.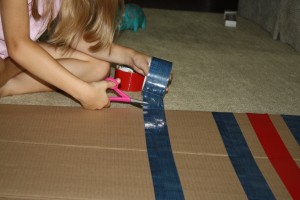 For my sewing board timeline, I use the inside (brown) part of the sewing board. I create the lines with whatever I have on hand. One year it was red ribbon. After I applied the ribbon, I covered the board with clear contact paper. Sometimes kids don't get the timeline figures quite where they need to be, and the contact paper means we can re-position them.
This year I bought red and blue duct tape for our timeline.  When I use duct tape, I tend to cover the board with contact paper first and then put the duct tape on. However, the tape is wide and we can put the figures right on the tape. Do whatever works best for you!!
Some years I color-code our timeline figures. I either mat them – by putting another layer of paper behind the figure, scrapbook style, or I use a marker around the edge to put a colored line on the figure. When we color code them, we use a system like this:
explorer – brown (wood of a ship)
scientist – green (things that grow)
artist/musician – pink (artistic color)
politician/president/ruler – blue (patriotic)
soldier/warrior – red (blood)
culture-shaper – yellow (star of a culture; a regular person who did something extraordinary to shape the culture)
writer/poet – orange (another bright, artistic color)
religious person – purple (royal color of Christ)
For timeline figures, my favorites by far are Amy Pak's History Through the Ages timeline figures. Although you can buy her paper figures for each era, her two-CD printable set of every important person ever born was one of my best homeschool purchases ever. You can print them out individually or by the sheet. I also love that you can use them as coloring pages for younger children.
However, you do not have to purchase timeline figures. You can have your children draw pictures, or you could come up with symbols for different types of events. Be creative! What about using a template which your children color in? Do whatever works for you, and keep it simple! It is more important to actually do it than to have it look like Michelangelo drew it.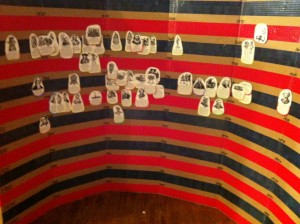 Timeline Ideas for Younger Children
For younger children, you are primarily concerned with keeping them interested and helping them understand the order of events. In that case, you can print Amy Pak's History Through the Ages timeline figures as coloring pages. Let the children keep them in a notebook in chronological order. Occasionally review what event happened before and after other events.
More Timeline Tips
Sometimes it helps students get perspective when you put local and current events on a timeline for instance, their birth date, the birth date of their grandparents, the year their town was founded, etc. We like to print out pictures of the covers of books we've read and post them on the timeline in their proper historic place.
The most important thing to remember when working with timelines is not to worry about right or wrong, but to focus on what works for YOU and your family.  What is your favorite way to do a timeline?