The Titus 2:1 Conference Blog Tour
Jenn Hamrick
Welcome to the Titus 2:1 Conference Facebook party Scavenger Hunt. The action will begin January 15th, 8:00 PM Eastern time on the 2:1 Facebook page.  We are honored to have you with us and hope to meet you in person at the 2:1 Conference at Hilton Dulles in Herndon, Virginia on April 12-14, 2013.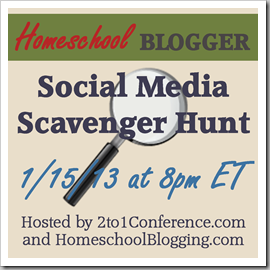 An Introduction to Bright Ideas Press
Bright Ideas Press has been providing Christian-oriented curriculum for homeschooling families for over twenty years. It all started when Maggie Hogan was creating her own teaching material as she educated her two sons at home. As more and more people began asking to use her lessons, she and her husband Bob decided to begin a publishing company. Today Bright Ideas Press is known for its commitment to teaching history, geography, and science from a Christian perspective. Through the years, Bob and Maggie have maintained their commitment to provide affordable curriculum that busy moms love.
Bright Ideas Press publishes these award winning titles: The Mystery of History series, WonderMaps software, Illuminations (a comprehensive, literature based curriculum), All American History, the Christian Kids Explore Science series, and A Young Scholar's Guide to Composers. Most of the books published by Bright Ideas Press can be used with more than one age at a time, so it is easy to group siblings together for multi-age teaching.
The Hogans are strong supporters of the homeschool community in general and give to the less fortunate through the ministry of Compassion International.
Giveaways to Celebrate
What is a party without some freebies? Use the widget below to enter the giveaway. Leaving a comment is the minimum required to be entered.  (But fill in the widget too!)  All other actions are optional but provide extra entries.
Loading Entry-Form…
…