Ten Educational Uses for Cardboard
Suzanne Broadhurst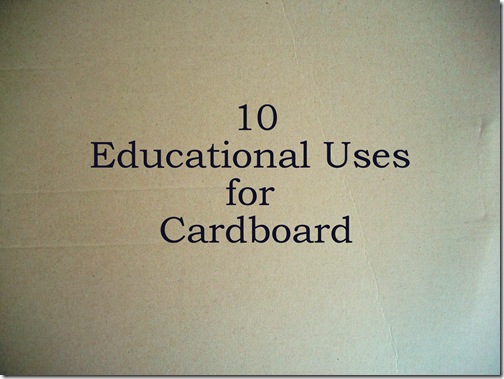 Cardboard is good for so much more than moving and recycling. Here are 10 ways to use a piece of cardboard for educational purposes.
1. Sewing Card
Cut a recognizable shape out of cardboard: a shoe, a football, or a pencil. for example.  Punch holes around the perimeter using a hand-held punch.  Using yarn and a plastic blunt-tipped tapestry needle, teach basic edge stitches, such as the whip stitch and blanket stitch.
2. Cake Decorating
Cover cardboard in parchment paper or foil.   Place a cooled cake or a giant sugar cookie in the center of the board.
Using a plastic knife, let your child spread a container of frosting over the top.  Let him have fun with frosting swirls and designs.  Have fun with color by scooping white frosting into small bowls and tinting with food coloring.
 3. Color Wheel Practice
No cake is needed for this one.  Offer a set of primary color paints in a washable medium such as acrylic or tempera.  Let children experiment mixing colors with a Popsicle stick or cotton swab on the cardboard.  Paint brushes tend to absorb paint, making the cleaning-between-colors process more time consuming than the actual fun of mixing colors.

4. Paint a Picture
Use the newly mixed colors on a clean piece of cardboard.  Tape a small length of yarn to the back for hanging.  You could paint a picture of a cake!  The painting above was created for BB gun practice on my birthday, but I didn't have the heart to shoot holes in it!
5. viplviv.com. Make a Test in Progress Sign
Sometimes brains need quiet to show their academic advancement while younger brains want to play firetruck. Make a sign that signals the times when quiet is required.
6. Make a Leave Mom Be Sign
The kids get quiet time for important work; moms should, too!
7. Make a Thank You Sign for the Mailman
He comes to the house nearly every day, and often brings us something special.  Make something special for him, so he knows each day you are thinking of him, too.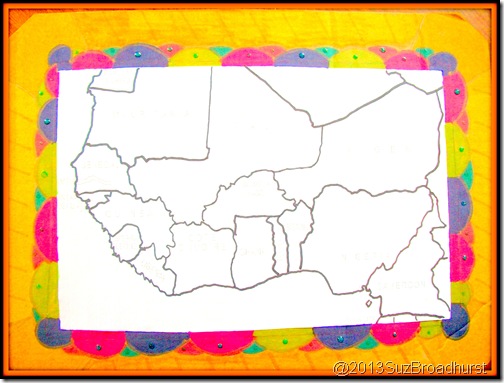 8. Decorate a Map
Print an outline map from WonderMaps onto a piece of cardboard a little larger than the map.   Your child can decorate the cardboard border with geographical or cultural symbols while you explain the concepts of political and environmental borders.
9. Dissect Something
Lay an over-sized piece of cardboard on the table on top of three years' worth of newspaper, right next to two giant-sized cans of disinfectant spray.  Put on a HazMat suit and keep the fire extinguisher handy.  Instruct your children to dissect the creature only on the cardboard. 

10. Display the Creature You Dissected
This will entail a second piece of cardboard.  Glue the bones and other remains of the dissected creature onto the second piece of clean cardboard.  Be sure to leave the display outside on the front porch for the mailman to enjoy.  Yes, we did this with real bones that we discovered in owl pellets.