Geography is Everywhere: Quotes about Geography Series
Maggie Hogan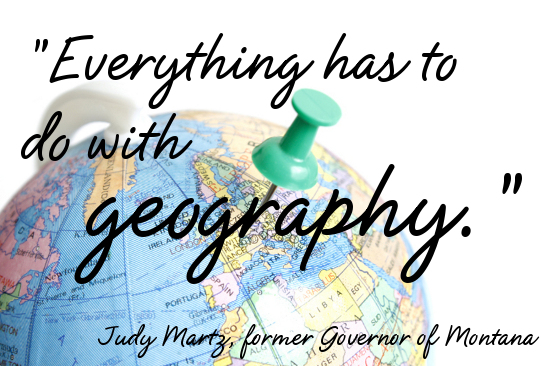 What do you think of this quote?
"Everything has to do with geography."

Judy Martz, former Governor of Montana
Is it true? Before deciding, it might be helpful to have a good understanding of what geography encompasses.
Check out my favorite definition by The National Geographic Society:
A knowledge of place names, location of cultural and physical features, distribution and patterns of languages, religions, economic activities, population and political systems. Physical regions and physical phenomena, such as tectonic activity, land form, climate, bodies of water, soils and flora and fauna. The changes in places and areas through time, including how people have modified the environment.
I don't know about you, but I'm hard pressed to think of any topics that don't, in some way, intersect with geography. Yet this vital subject has sadly been relegated to "optional" or ignored altogether.
If you are serious about your students' leaving home well educated, it's important to understand that economics, politics, science, history, religion, and culture are all affected by and intertwined with geography. As a Christian parent, I wanted our sons to be well-informed citizens with a bigger picture of the world than just what they heard or read in the news.
Convinced but possibly overwhelmed? I am here to tell you that geography can be naturally included in your daily life with a minimal amount of effort. From a small child learning about the life cycle of a butterfly (fauna) to a high school student working to understand the relationships among drought, poverty, and ethnic war in an African country (economics, climate, religions), geography naturally fits into day-to-day studies. Of course, there are times when it can and should also be taught as a stand–alone subject as well.
Improving Geographic Awareness
Try this one simple activity to improve geographic awareness in your home.
Place a large world map on the wall or kitchen table (covered with a clear plastic tablecloth). Every time your students hear or see a location mentioned—whether on the news, in a sportscast, in their reading, in a letter or missionary report, or in a question that popped up in history—find the location and mark it on the map.
Younger students will need a fair amount of help to accomplish this task. Keep it fun—perhaps offer rewards for each place found. Review all the marks at the end of the week. What happened there to cause the mention? Get into this habit, and you'll be amazed at how quickly your family will learn its way around the world! Next week I'll provide another activity for incorporating geography into your home.
I'd love to hear what you are doing to teach geography? Please share in the comments.
This post is part of the Quotable Wisdom Link-up by the bloggers of iHomeschool Network.