The Ark of the Covenant ~ Mystery of History
Heather Cook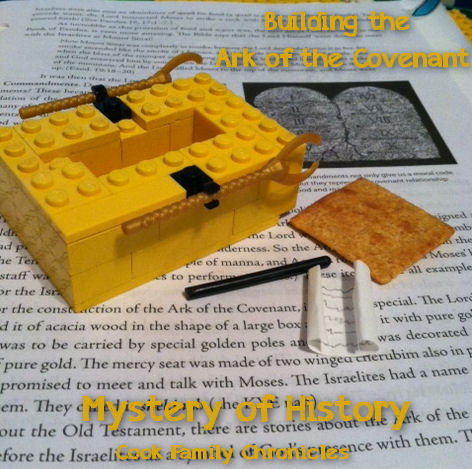 One of my favorite parts of using The Mystery of History with my children is all of the hands on activities. Each lesson in MOH gives activity ideas for three different age levels, meaning there is literally something for everyone! In our family we have K-4th grade. I love being able to work together on a project. All of my children are learning about the same things, but at different levels.
Our latest lesson was about the Ark of the Covenant and the Tabernacle. All of my children were already pretty familiar with this portion of scripture and  were pretty excited about the project.
One of the hands-on project ideas is to make the Ark of the Covenant. The book outlines instructions, but because we did so many holiday crafts, the craft cabinet was a bit sparse. I was lacking several of the required supplies.
Instead, we improvised with yellow Legos© since yellow is as close to gold as we could get. With three little boys, we have an abundance of Legos© to choose from.
We built our "gold" box,and added 2 poles to the sides. We used two staffs, attached to the sides so that the box could be carried just like the biblical account. We added a cracker to represent the manna, a staff to represent Aaron's rod, and of course a scroll to represent the Ten Commandments.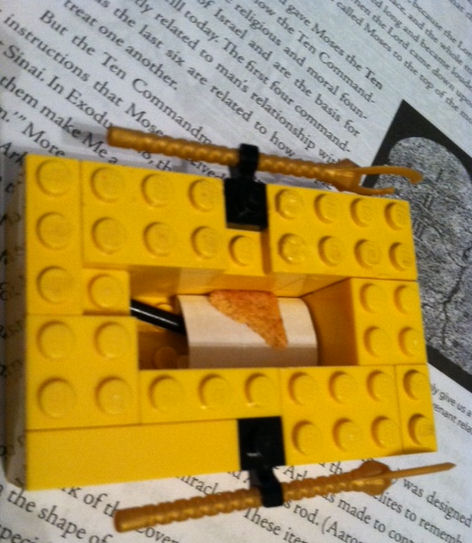 We also searched the internet for images of what the real Ark of the Covenant may have looked like. There were several that displayed the intricate detail that would have gone into making it. I also let them compare their model to the ones online.
I love when my children have visuals to go along with their learning. There is something about seeing and touching and not just hearing that makes the history stick. Learning is supposed to be fun, and thankfully we have found a history curriculum that brings the fun element into learning — The Mystery of History.