Win a Free Consult with Kathy Kuhl for Special Needs Learners
Jenn Hamrick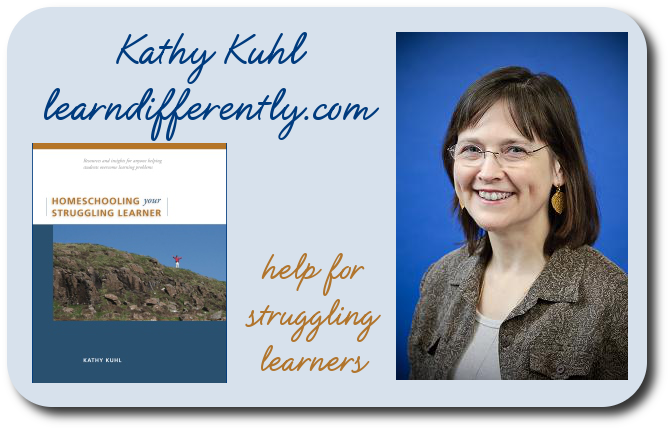 We at Bright Ideas Press would like to introduce a friend, Kathy Kuhl of Learn Differently. Kathy's passion is to help parents help children thrive.
Have you ever asked yourself these questions?
Why is school so hard for my child?
Why does it take so long to finish school?
What can I do to make learning easier and more joyful?
Why can't my child retain what I teach him?
How can I get my child to focus on lessons?
Why does my child hate to read?
If so, you will benefit from Kathy's expertise.
Kathy offers one-on-one phone or Skype consultation for parents starting or adapting a homeschool. She can provide advice on curriculum, support, planning, evaluating, and working with health professionals.
Or you may prefer to begin with a printed resource. Kathy's first book, Homeschooling Your Struggling Learner, is a handbook based on interviews with 64 families who were  homeschooling children with diagnosed learning disabilities. It is also based on her personal experience homeschooling her son for grades 4-12.
If your child is not a special needs learner, you will still love her affordably priced booklet, written for a general audience:  Staying Sane as You Homeschool: Balancing Your Priorities.
This easy to read resource is very down to earth. There is no educational jargon, just heartfelt advice from someone who understands the trials of making time for the details of life while homeschooling. Staying Sane is written from a Christian perspective and addresses serious issues like grief over our children's learning struggles, feeling inadequate as a parent, and making time for our own mental health.
To get a taste of her approach, download some of these free resources from Kathy's workshops:
Find Kathy and Learn Differently on Facebook and Twitter.
Enter to win a 30 minute consultation with Kathy Kuhl
Kathy Kuhl loves to help families with children who have learning challenges whether they are new or experienced homeschoolers. Enter to win a free 30 minute phone consultation with Kathy using the widget below.
Notes about both giveaways
You do need to comment on this blog post and also register inside the widget to win. One blog post comment makes you eligible to enter both giveaways. Just be sure to enter inside each widget that you would like to win.  The consult is done by phone so is open to anyone, anywhere. The books will be shipped only to USA addresses.