A Hands-on History Curriculum Leads Children to God
Suzanne Broadhurst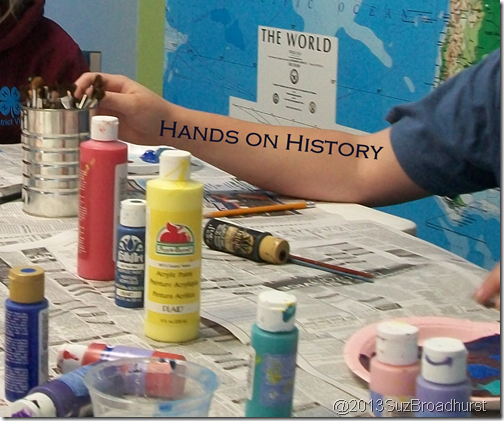 Some children are naturally bent toward reading everything and anything, including 3rd grade history textbooks from the public school depository.  Most young ones, however, would rather listen to someone read an interesting story about the Egyptians while their own hands get gooey with cake frosting, building a pyramid with sugar cookie bricks.
Hands-on history is more fun for the young ones, but what about the educational benefits? For your pondering pleasure, here are some edu-thoughts on curriculum choice beyond the fun factor.
Beyond the Fun Factor
Unless historically predisposed, children really don't care whether Socrates came before Abraham Lincoln. When children are young, life truly is all about them.
Unless the facts affect them personally, the information doesn't really matter.  And that's where hands-on history can make the difference between Who Cares? and Wow Did You Know. . . ?
By the time high school rolls around, if students have had hands-on experience with history, they will begin to make connections between historical facts, leading them to make wise choices themselves.
The Progression of Hands-on Learning
Internalizing Historical Events onto Their Personal Timeline
Children remember sequences of events if they have a personal investment of time, energy, and a sense of purpose in each one.
Example:  "We built the Delaware River out of blue frosting and cookie dough before we recreated the underground railroad.  Remember, we smuggled cookies into the laundry room, staying away from mom's bedroom so we didn't get captured!"
Historical Circumstances Breed Choices
Just telling the children about Hannibal's army may not invite questioning of his tactics.
Staging a platoon of plastic elephants among a herd of little green army men, climbing pillow mountain passes gives greater appreciation for Hannibal's creativity in the battle.
Re-enacting the battle can prod children to ask insightful questions,"Why did Hannibal go over the mountains on elephants?  Why didn't he use F-16s?"
Choices Breed Happenings
While children build Abraham Lincoln's birthplace out of rolled newspaper logs, they hear stories of his choices.
Early choices, such as walking great distances to borrow books to read, led to later choices as he experienced for himself the power of the written and spoken word. Children will learn, like Mr. Lincoln did, that choices breed happenings.
Happenings Affect Generations
When children playact historical happenings, they begin to see connections between generations.
The choices of the people of Israel during the days of prophets like Micah, Nahum, Jonah, and Zechariah come to life in the Minor Prophet Olympics.  Children notice their own behavior and thoughts mirrored, and the Bible becomes applicable to their own generation and to generations to come.
With Understanding Comes Humility
As children look into self-sketched eyes of the people on their homemade timeline, they begin to see connections: one historical character leads to another.
One decision leads to another.
One generational belief leads to the next generation's actions.
With gentle parental nudges, they begin to see the timeline is not complete.  History is happening all around them – and they are in the midst of it. The importance of their own choices will rest on their own shoulders, and the natural weight of decision-making leads to God.
Humility Leads Us to God
And there is the historical rubbing:  the rub of our past – both small and great – with His great perspective.
And that's the best reason of all to teach history hands-on: to lead their hearts to Him.